Day 2 - Valetta, St John's Co-Cathedral & Malta Experience
Wednesday 14th May 2009
Our day began with our first exposure to the breakfast offerings at the Bay View Hotel. Actually, the day began with a stark reminder that the bathroom in our room had the most amazingly bad smell emanating from somewhere, despite the clean and shiny surfaces, but we just had to move on from there ... Breakfast, it turned out, was a fairly standard mix of cereals and the cooked breakfast variety of scrambled eggs, beans and bacon. Sounds good in theory, but this bacon was like no other I'd seen before – very limp and roughly 30% of it was edible, the remaining 70% was rind that you would had to cut off, taking each slice at a time with the precision of a surgeon, such that when you'd finished the plate, there were piles of left-overs. I assume that some people actually like to eat the 'fatty bits', but it wasn't for me. That said, the edible bits were still tasty, it just took some work to get to them!
Before heading out to explore, we attended the holiday company's introductory meeting organized by the rep. It was the usual kind of thing, basic orientation about what's nearby (we were in an area known as Sliema) along with a run-through of the tours and activities that the company can provide. We had little intention of going with them on the tours as experience had shown that the prices are usually quite inflated and you can usually do the same for a lot less, assuming that you don't mind working out how to get to places using public transport and what have you; what it would be useful for is getting an idea of the highlights. So, they told us about the tours, we made notes and then worked out how we could recreate those tours that were of most interest to us under our own steam.
Orientation over, we made our way across the road to the bus stop – the hotel is very well situated for all the public transport, it has to be said! We took one of the many buses that pass through Sliema on the way to Valetta, arriving at the main bus terminus in the city which, once seen, is never forgotten by visitors to the city. The reason for this is less about the terminus itself, but rather the collection of buses you can find in it – some new buses here and there, but by and large the buses date back to 1960s and 1970s, most of them old British stock (British Leyland). Despite their age, they are almost all in excellent condition, with plenty of shiny chrome around the light fittings and across the radiator grills. So Manda 'parked' herself in a shady spot while I took a quick wander around and, like many other tourists, did a bit of uncharacteristic bus-spotting and taking photos of the finer examples. When I caught up with Manda again, a man was speaking to her, asking her what her name was. Judging by the extreme dark redness of the man's tattoo-covered leathery skin and the presence of a can of Export strength lager in his left hand before midday, I quickly realised that this was perhaps not the best kind of interaction with the locals that we would want. "Come on then, you ready?" I said to Manda, as I arrived, quickly ushering her away from this man with the subtlety of a breeze block. We walked away from the terminus towards something that looked vaguely touristy, not entirely sure what it was or where we were headed (I didn't care, just "away from that dodgy bloke" would do). We walked through a public garden, past a couple of statues then closer to a large church, still not really sure where we were. We bumped into some other tourists who looked equally lost and none of us could see the street names on the maps we had. With a little more investigation, it turned out that in my hastiness to get Manda away from Mr SuperStrengthLager, we'd walked in entirely the opposite direction from the one that we'd wanted! About turn, back towards the bus terminus and beyond through the main city gate entrance ...
Our first proper touristy stop was the St Johns Co-Cathedral (no idea what the difference is between a cathedral and a co-cathedral), a building which looks fairly unremarkable from the outside but inside is, as you might expect from a cathedral, really rather opulent. Decorated with numerous Maltese Cross emblems, my personal favourite bit was the tomb coverings (not really 'headstones' as they were flush with the floor) made from marble pieces in various designs, many of them featuring skeleton designs.
We didn't stay long at the cathedral as we wanted to make it to the next showing at the Malta Experience. We'd seen flyers for this as we'd arrived at the airport and had been told it was worth watching. It promised an audio and visual 'experience', but for my money it was a rather overpriced historical film about the island, interesting as it was, displayed on a cinema screen with some audio pumped out of loudspeakers by the stage and the voice-over delivered via headphones plugged in at each seat with various language options. It was not an experience that I'd recommend others to bother paying for (it'd make a good film to show on the plane on the way over, actually ... assuming that you're not traveling on cheap-ass charter flights, of course ... which we were!).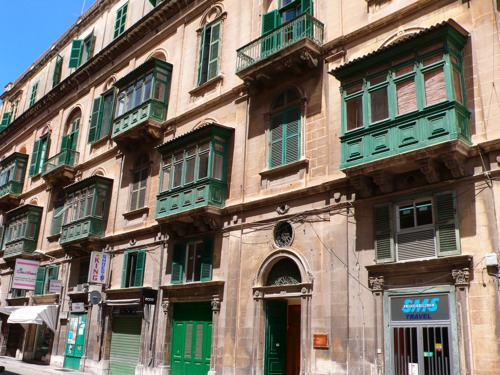 We emerged from the dark interior of The Malta Experience back into the blinding sunshine where we got the real Malta experience, looking out over the old fortifying walls into the Grand Harbour. Just a short distance up the road is a tower, a monument of some kind with a huge bell hanging from it. We found the warning infographic quite amusing:
We wandered back up one of the many steep hills that can be found in Valetta before deciding to have dinner in a restaurant called Eddie's, a fairly typical outdoorsy restaurant, the kind you find in city squares the world over, each table covered by a large sunshade and with a menu consisting mostly of pizza and pasta. Actually, we'd noticed already that there seem to be a lot of Italian dishes on offer (but then Malta is a curious mixture of cultures, notably Italian and Arabic). With dinner out of the way, we started to make tracks back to the hotel. We were told that it's good to get the bus in to Valetta and the ferry back to Sliema so that you don't end up walking up steep hills at the end of a day of walking, but that didn't help us on this occasion, as the last ferry to Sliema had left almost two hours previously. So we ended up walking all the way down to the ferry and back for no good reason. Actually, that's not totally correct – by walking down that direction we passed by the church with the biggest dome in Valetta (the Church of Our Lady of Carmel) and took a look inside, and because of the time of day we managed to see the city in the golden glow of sunset, all balconies, domes and spires. Perfect!