Thursday 10th September 1998
We hopped on to the tram and headed back to Malostranska. It was very hot and we found it difficult to keep out of the sun. In an attempt to cool down, Manda ordered two strawberry ice creams in Czech. The assistant seemed to understand as we were presented with the right thing!
Petrin viewing tower
The queue at Uzetd (the cable car station that would take us up to the Petrin Viewing Tower) was manic. However, despite the collection of kids with backpacks who were jostling for a place, we found a car that was empty ... for a short while. On the way up, one of the local kiddies in front of us screeched at something. Hadn't they seen tourists before? No, in fact they were squealing at a grasshopper that had decided to hitch a lift in our car and had just hopped somewhere behind/next to/on Manda!
Halfway up we stopped and half the people got off - obviously university students as the halls of residence were based there. We then continued up the hill and I wondered if some of the other tourists who had got off had actually intended to go right to the top, thinking they had already arrived!
The tower is a mini replica of the Eiffel Tower. However, the viewing tower is situated on the crest of a hill and the view, so I've been told, is just as spectacular as that from the Eiffel Tower. Only this tower is more knackered and less stable. It seemed to wobble and creek as we walked further up. We found it strange that we didn't meet anyone coming in the opposite direction. It later dawned on us that the up and down staircases were intertwined, so we never would bump into anyone coming the other way. Probably just as well since the staircase was 'single-tracked'.
Once at the top we took the obligatory join-up panoramic pictures, and the view of the city as a whole was the most spectacular yet, albeit in 'miniature'. Graffiti was prominent on buildings everywhere in Prague and this tower was no exception - its walls served as a visitors' guestbook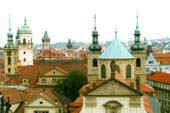 Once back at sea level, or thereabouts, we caught another tram across a bridge (not old Charlie's bridge) to Narodni Trida, a street just round from Wenceslas Square which, translated, means 3 November Street (something to do with a date of a revolution). First stop was the branch of Tesco that we had walked past on Tuesday to buy a few gifts - choccies and the like. It was fairly clear that the Czech people don't really have a sweet tooth - sweets were few and far between, although we managed to find some cool biscuits in the shape of the Moomintrolls! I also bought some sweets that sounded, erm, interesting. Later it transpired that they also tasted disgusting. A travel tip for any potential visitors to Prague then!
We took another look around the market place at the bottom of Wenceslas Square. We sat down for another rest in one of the open air drinkeries. We sat there and reflected on the busy few days we'd had, watched other tourists go about the hustle and bustle and started to get used to the fact that soon we'd be on our way and homeward bound.
We then made a move back to the hotel. As we sat there in the reception, a busload of German tourists poured in. Each and every one of them looked over in our direction with varying quizzical expressions. Yep, they'd clocked the bad taste sofas upon which our butts were presently situated. At least I hope that's what they had seen! Our driver arrived with our 'minibus'. That's right, one bus for two people. It seemed a bit extravagant but as long as it got us there in time that's what mattered.
Home time
It's strange, but as we left the city, the thing I remember most was the radio jingle that kept on sounding. It was just like the whistling sound Abe makes in the Play Station game Odd World. Erm, if that means anything. Made me giggle to myself, that.
Boarding seemed to be taking forever, especially with a crying baby within close proximity, determined to make himself heard! Once we were all on board the captain said that we were running late and might miss our slot - and so it was that we were indeed late for our slot.
Well, you can probably guess the rest - got back, fetched car, drove home, flaked out. Then started thinking about the next holiday ...
Download your free Prague desktop wallpaper or read my other holiday diaries >>