Day 3 - Pag Island
27th June 2009
Today we picked up the hire car which meant freedom of the city! As ever, we've got ourselves a 1.nothing litre gutless wonder - a Fiat Punto, this time. Given that it's just the two of us, there's little point in getting anything bigger. We have but one requirement for a car in this kind of climate - air conditioning! Anything else is incidental/a bonus.
By way of getting used to the car, I opted to stay reasonably local for the first day. While I'm used to driving a left-hand drive car, the big unknown is just how far up the mental scale the local drivers are. Always good to let yourself in gently on these kind of things. Something that I knew I'd miss was SatNav. We always bring the SatNav when we go abroad - it really can make a big difference when you don't know the area and place names at all - but for some reason my SatNav had pretty much all the European maps except Croatia! No idea why that is, but it explained why I found myself down ever smaller roads (aka 'a bit lost').
We headed for Nin, a town that had a brief entry in one of the guide books, and no entry at all in the other book (but for some reason guesthouse owner Helena had suggested was worth a look). I wasn't expecting much and my expectations were met!
From there we made our way over to one of the nearby islands, Pag, which was easy to get to as it had a bridge connecting it; no ferry crossing required for this island trip. The Lonely Planet described it as a very barren and rugged looking place and said it would not be out of place in a 1950s film, cruising around the twisty roads in an open top car. The Fiat Punto would have to do! We drove to the town of Pag, which is right in the middle of the island, and took a good look around. As with Zadar, lots of little alley ways broken up by the occasional square and at strategic points along the way ice cream vendors selling a mouth-watering range. At 5 kuna a cone (about 60p), the ice creams here (and by here I mean Croatia generally) are excellent value; it almost seems like a national pastime!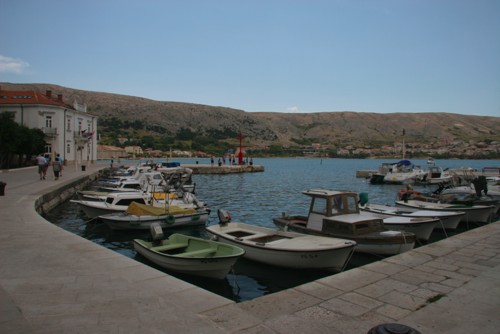 We took plenty of photos around Pag but couldn't help but think that the grey skies were not doing it justice. As well as the usual photos of boats in the harbour and old town halls, I managed to get a few cheeky paparazzi style photos of the old ladies making lace.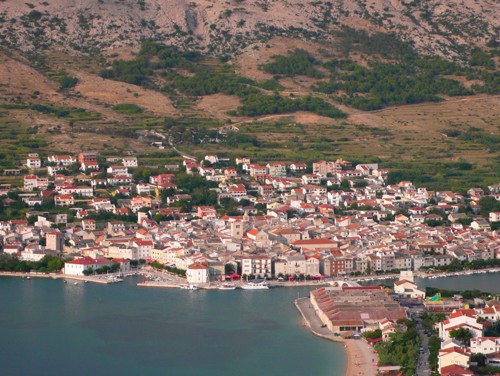 We continued on over the hills through more twisty winding roads, with many impressive vistas to take in along the way, and on to the town of Novalje. This town is home to a number of big nightclubs (much to the chagrin of some of the locals), and has quite a lively seafront. Although Pag was, on paper, supposed to be the more interesting place, Novalje felt a bit more alive, a bit more like a 'traditional' holiday seaside venue (if traditional means typical tourist spot in Spain or Portugal). After a walk along the seafront, we had a bite to eat - the world's messiest chicken burger! It was a little too 'lubricated' by mayonnaise, resulting in the chicken making a bid for freedom from the bun with every bite. We used many serviettes trying to mop it up and I'm fairly sure this is a regular occurrence, judging by the knowing look from the waiter as he brought over a fresh stack of serviettes to us!
We had a very surreal moment on the way back from Pag Island. The CD player in the car does not work, so we'd been trying to find stations with something half decent on. As we got near to Zadar, we heard the words 'Radio 1 Big Weekend, Swindon' in amongst the Croat language being spoken, followed by a live performance by Calvin Harris from the Big weekend. He began by saying something along the lines of "Thank you for making me so welcome, Swindon. I've not been here before". And here we were, us Swindonites, in Croatia struggling to find decent music on the radio and coming across this!
We finished the day by trying the local drink - Maraska. We were given a complimentary taster by the guesthouse to see what we thought. At 32% volume, it was no surprise that it tasted strong! Not really my kind of liquor, or Manda's for that matter, a bit too sweet. I think I'll stick with the other local drinks (namely Karlovacko).