Day 7 - Rab Island
1st July 2009
Before coming to Croatia, I did what I often do before any trip: think to myself "Mmmm, who do I know who lives in [insert destination here]". I could think of only one person this time, Marko, a web designer who happens to live on the small island of Rab. Having told him I was heading his way, he promised, via Twitter, that cocktails would be on ice when we get here. I joked that I would take a screen shot to hold him to that offer! So, this morning we found ourselves taking the very scenic - but very twisty and somewhat long-winded - route from Zadar to Rab, by way of a small ferry crossing from the small town of Jablanac.
Looking at Rab from the mainland, it's hard to believe that there is much to see on the island. With the sun beaming down on its east coast, all we could see was a very bright reflection off the barren ground. Could anything actually live here? Even the hardiest vegetation seemed to be having a difficult time getting any kind of foothold!
The moment that we arrived in Jablanac and stopped for the ferry, the local window-cleaning racket had pounced on us. As they lifted up the wing mirror, we said "No, no, no" (it's a hire car, so what do we care about the car's appearance?), then up went the sponge as we said "No, no, no" some more, backed up with vigorous head nods (the no kind). Out came the squeezy bottle with detergent in and we continued with our "No, no, no". Soon afterwards, we had a spotlessly clean windscreen and a couple of coins less in our pocket. They really don't take no for an answer - selective hearing. Even if we were not saying it in Croat ("Ne, ne, ne!"), or even German (many of the tourists here are German), I think it was pretty clear what we meant!
The ferry ride across was brief - 15 minutes at most - and brought us into a small protected bay, Misnjak, on the south of the island. Then it was just a short drive into the main town of Rab, which is in the middle of the island, but we continued on to the north of the island to a place called Lopar. This is an area of the island that has plenty of beaches, 22 of the sandy kind if the usually reliable Lonely Planet guide has it right.
The plan was to have a quick dip, then have lunch before heading back to Rab. In the end, only I had a dip - we walked a little bit of distance from where we parked the car, so we couldn't store valuables away. I swam while Manda minded our bags to the ever-present background noise of the island's cicadas (or whatever the heck the noisy but strangely invisible critters in the trees were). Actually, I say 'swim', but truth be known it would have taken me an age to really swim. Paradise Beach at Lopar is a paradise for families with small children, because you can walk for flippin' ages in the sea and still only be up to your knees! I realised fairly soon that if I were to swim, first I'd have to walk a marathon, so I just kinda splashed about a bit, feeling like a bit of a prune. A prune with very tanned arms and an offensively white chest.
Lunch next, and another pizza. Anyone would think I'm in Italy but the feeling on the ground here was that we were in Germany; I'd estimate that 90% of the tourists in Lopar were German, a feeling backed up by the dual language signs, often in German first. Oh, and the fact that all the shopkeepers started conversation with you in German first. Come to think of it, there was one other dead giveaway: the ratio of (usually garish coloured) Speedos - or budgie-smugglers, to use the wonderful Aussie vernacular - to what I would consider to be 'tasteful' swimwear. We all know who the main offenders are on that front, eh ;-)
We headed back to Rab town, stopping at a gorgeous look-out along the way, and parked right on the waterfront in the centre.
The old town didn't look like it would take all that long to explore, small as it was, but the sun was particularly fierce when we arrived. Everyone was ducking out of the sun's way, taking refuge in any shady spot. We found very little will to move or explore and limited ourselves to a walk along the lower streets which run the length of the old town. We could see that the four towers that Rab is famous for were on the other side of the peninsula, not a great distance away, but it would involve climbing some good old-fashioned medieval stairs. In that heat? No thanks! 3:30 came, that being the time that Marko finished work, so I called him up and we arranged to meet shortly before 4pm.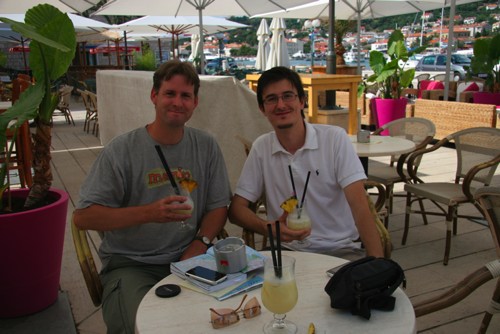 True to his word, Marko got the cocktails in. I didn't pick, I simply let him get whatever he recommended, and that turned out to be Pina Coladas for the three of us. Sat in the shade, sipping on this delicious cocktail, I stopped caring about the fact that we hadn't explored the town yet. That could wait! Instead, we found out more about Marko's life on the island, his background and that kind of thing. We talked about people we know, and it felt strange at times chatting about folks that we know back home who are also friends with Marko in the virtual world (think Flickr, Twitter, Facebook etc). Then came a bizarre occurrence that totally proved the point ...
Marko's iPhone rang and the ring tone was the cantina band music from Star Wars. "Hey, I had that ring tone!" said Manda, referring to a MIDI-style version she had on an older phone. I was thinking 'I can go one better than that' and pulled out my iPhone, went to the sound settings and played the exact same ring tone. "Same one," I said, not realising just how technically accurate that statement was. Not only was it the same ring tone, it was from the exact same source - Marko!
What happened was one of Marko's friends wanted some ring tones, and Marko had found the sounds which he passed on to another friend of ours, Luke from California, who converted them to ring tones suitable for iPhone. Luke then sent them back to Marko, who put them on his server, while Luke added a link to the ring tones on Flickr, of all places. Coincidentally, I had seen that link on Luke's Flickr page, downloaded them and put them on my phone. So, unknown to me, I was sitting directly opposite the man who had got the ring tones together and had no idea! As if that isn't weird enough, Marko is one of only two people I know from Flickr/Twitter etc who I've met (but not met first at a tech conference, a crucial detail). The other one is Luke - the ring tone middle man! Like they say, it's a small world but I wouldn't want to paint it!
We continued chatting, putting the world to rights and talking more about Croatia, what we'd seen and where we'd visited. By the sounds of it, we missed a chance encounter with Bill Gates the other day - he had visited the waterfalls at Krka the same day as us. As Marko revealed more, we realised that we'd kind of seen him in Split: what we thought was a ferry moored away from the harbour was Roman Abramovich's 'yacht' with helicopter landing pad on top. We had seen the helicopter take off, circle over the town briefly before heading off. I had wondered at the time what they were doing going in circles, now I knew: Roman and buddy Bill were sight-seeing from above!
The sun had got considerably less fierce, something to do with the leisurely pace that we had the cocktails, so with somewhat more clement sight-seeing weather, Marko took us up to a great lookout point above the town. He paid for the drinks and wouldn't accept anything in return. So, Marko, if you find yourself in England we will return the favour. Minus the good weather though ...
Marko headed off to meet up with his girlfriend, so we said our goodbyes and went our separate ways. For us, that meant back to the car to head back to the ferry. Although we'd not exactly been intrepid explorers, we had seen the main highlights of Rab and had had a very pleasant afternoon chilling out in the shade with a friend. It would still be a long journey home, one that would ultimately involve staring at a truck's rear axle almost all the way back as I failed, bend after bend, to overtake the damn thing in our gutless Fiat Punto hire car!