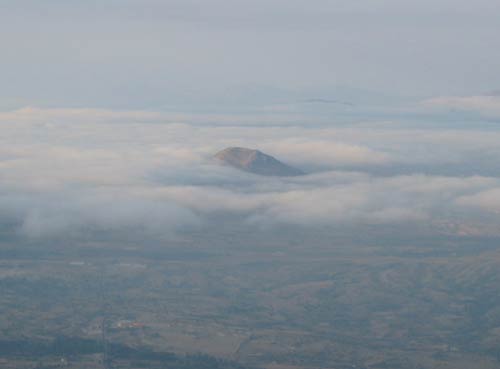 Low-lying clouds surround a distant peak.
Fairly soon we find ourselves so high that we're actually looking down over clouds in the distance that are wrapped around one of the peaks. I ask Lars what the plan is and he explains that the reason he has gone so high is to catch another thermal so that we can head off in an entirely different direction. I was wrong - we've still got plenty of ballooning to go!
The thing about ballooning is that you cannot really know what to expect. We've been lucky with the weather - it's a beautiful day, and the thermals provide us with a good solid hour's worth of unique sight-seeing. Brent manages to run off 72 photos in that time, and I've been having to remove other less exciting (and probably repeatable) photos from my digital camera to make room for the views from the basket. The trip ends with a very gentle touchdown in a (thankfully) very flat field - the text book landing (and landings need careful planning here - if the pilots don't liaise closely with the ground support crew by radio, it's easy to land in an area inaccessible by road, and you might wait half a day for a 4 by 4 to come and collect you!).
We all join in to help the support crew roll up the many square metres of balloon material (imagine trying to pack your entire wardrobe into your smallest suitcase and then sitting on top of it to force it in - that's a similar experience) before celebrating with a glass of champagne. One of the ground crew is speedily festooning the basket with garlands of flowers, all ready for the forthcoming group photos. We all hand our cameras to another one of the ground crew, Ufuk, then gather in front of the basket. It's difficult to say what looks sillier - all of us with our shades and champagne, or Ufuk with 20 cameras hung around both arms, his neck and anywhere else that could sensibly be used. He must be well used to it by now, but for us this was almost certainly a once-in-a-lifetime experience - one that I'd encourage anyone to try given half the chance.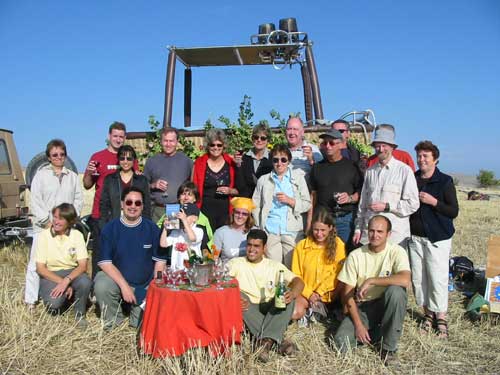 Final group photo: (l-r, back row) Rachel, Ian, Manda, Ted, Barbara, Pat, Moira, Terry, Brent, Jeff, Colin (covering Tony) and Pat; (l-r front row) Kaili (pilot), Robert, Belinda, Louise, ground crew guy #1, Alena, ground crew guy #2. Only Eric missed out on the ballooning trip!
Related Links