Day 12 - Thursday - Ürgüp>
Part 1 | 2 | 3 | 4 | 5 | 6
'Day 12 - Ürgüp'. The title doesn't even begin to hint at the day ahead. However, if the title for this day were 'Ballooning, Pottery demonstration, Goreme Open Air Museum, Üchisar Castle, Kaymaklı Underground City, Rose Valley walk and Turkish Night at Yasar Baba', well ... It'd be a tad long. But that's precisely what we did!
The day started very early - a 4am wake-up call for a 4:45 departure from the hotel. We had decided to take up the offer of a balloon flight over Cappadocia. At roughly £135 per person it's not cheap, but as many people who had also been mulling it over in the previous days said, ballooning might be a once-in-a-lifetime experience, and here's the place to do it.
The balloon pilots - husband and wife team Lars and Kailie - have something like 20 years' experience each. This showed once we were up in the air. They had fired up the balloons later than some of the other operators in the area, which gave Lars and Kailie an opportunity to watch what the currents were doing to balloons already up in the air. Because of this, we were able to maximise our time, following currents in and out of valleys, rising to catch thermals that would take us in another direction to repeat the process all over again. In all we managed about an hour and twenty minutes in this strange, stunning and beautiful location.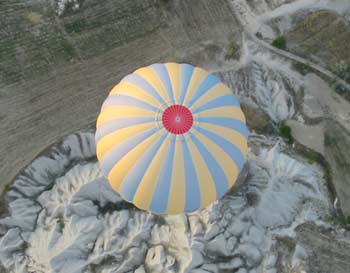 The pilots were so skilled that when we were down in one of the valleys, the balloon would be gliding between rock formations just skimming the tops of trees or bushes. At one point Lars said "Does anyone want an apple?" and then scooped a handful out of a tree. The next moment, we were ascending, following the curve of the valley as if sliding along some kind of force field (how we never scraped the basket along the rock, I'll never know) and off to the next valley.
At our highest point, we were something like 7,000 feet above sea level and 4,000 feet above the ground, even looking down at some low-lying cloud that was partially broken by a hill in the distance. It was such a strange experience to go from one extreme to another, and then to do it all over again. In a plane it's pretty much "there's the ground disappearing from view, here's the cloud .... and some hours later, here's the ground again"
Like the parasailing from a few days ago, the surprise with ballooning was how peaceful it all is. I had an idea it would be quite calm, but thought that it would be quite blowy. I had a cap on, Manda had tied her hair up. None of that was necessary because as Lars explained: "You don't feel the wind, because you are the wind".
We finished the flight with a group photo, a glass of champagne and cakes and a general feeling of jubilation. Brent summed it up when he said that the balloon flight could be improved - if they could just take us up a second time. Given that Brent took 72 pictures during that flight, Kodak would wholeheartedly support that view.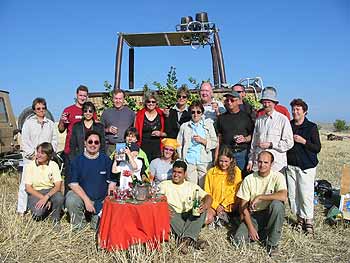 Ballooning over, we were dropped at the hotel and immediately headed off for our next destination, a family-run pottery business at Avanos.
New! I've finally got around to doing a full write-up of the balloon trip. Check out the full story - including new photos - right over here!