Day 3 - Luxor to Aswan, Felucca on the Nile
November 1997

Our hotel in Aswan: The Kalabsha.
Another early start - 5am this time - to catch the train to Aswan. Renowned for slack time-keeping, it was somewhat of a surprise that the train left only an hour later than planned at 7am, arriving in Aswan at about 11.30am. Kali told us that this is the earliest it's ever got there. She has this habit of telling you about the things that can sometimes go wrong after the event but, hell, who wants to know about a cock-up that might never happen? Thanks to our early arrival we were able to take a stroll along the Corniche alongside the Nile. The Kalabsha Hotel was our place of residence for the next two evenings and was a lot plusher than our rooms at the Emilio, although nowhere near as plush as the Old Cataract Hotel across the road (another film location from Death on the Nile).
Feluccin' good afternoon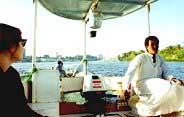 Taking a felucca on the Nile
In the afternoon we took a felucca across to Kitchener's Island where we saw the Botanical Gardens. Just a bunch of old trees really, but then I never really have been much of a gardener. I'm sure it's all very nice if that's your thing. Back on the felucca, we headed up river past Elephantine Island to the first cataract where rocks jut out of the Nile, forcing the river through narrow passes which cause the strong currents found there. We experienced these currents first-hand when the felucca got a little caught up and crashed into a cluster of rocks on the west bank. Still, we managed to sail on regardless - no real damage. It was a very relaxing afternoon but turned a bit too chilly for T-shirts once the sun went down. Seeing the sun rise in the morning and set while floating on the Nile makes it easy to understand why the ancient Egyptians worshipped the sun god Ra and why this rising and setting played such an important role in daily life.
Shish, that's good
Evening - dinner in the Aswan Moon on the Nile and, as well as the good food, our first taste of shisha pipes. Very good they were too - even the non-smokers were having a go. Terry, the tour leader from Lucinda's holiday last year, was at the restaurant with his group so I was able to introduce myself and tell him about the letter I had for him. He would be getting it in person on Sunday at his leaving party once we all met up again in Luxor.
It was another early night 'cos we had a very early start planned for next morning.