Day 5 - Camel Trek To St Simeon's Monastery
November 1997

It's easy as long as you don't get the hump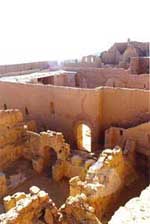 St Simeon's monastery
We started the day with something I'd been really looking forward to - the camel trekking to St Simeon's monastery. My camel was a plodder, quite happy with his gentle pace; John got the racing model. Getting on and off the camel is fun - you really have to angle yourself severely to avoid falling off as the camel gets up off its haunches, first one way then the other.
Mad monk
The monastery is pretty big and much of it is still intact. The guide, on the other hand, is not all there. Wagi, that's his name. Nutty as squirrel poo, I tell you. To get the group to follow him he would meow like a cat and to tell us what was what in the monastery he would mime and play out the actions. His command of English was almost zero but we understood what he was on about completely. Then it was back on the camels to plod back to the west bank and to the ferry that awaited us.
At 11am we bade farewell to the Kalabsha Hotel and its staff and headed up the Corniche for The Kimo, our boat for the next two days. After a glass of karkadeh tea and a brief introduction to the skipper Ahmed, whom some of us had met before at the King's Head, it was full steam ahead down river for a bit of pure, unadulterated relaxation. Three hours of lounging about was then interrupted as we moored at Kom Ombo to visit the temple there. Damaged by an earthquake as recently as 1982, there's still plenty to see at this impressive site, including the only representation in hieroglyphics anywhere of a woman giving birth, apparently. Outside of the temple I bought a couple of beanie hats which Andy did most of the haggling for. He also got a bagesh - the full-on Laurence of Arabia headscarf affair - but had to swap a packet of cigarettes and his Marlboro lighter for that (I think the Egyptian hawker probably got the better deal there).
Drinking top deck
Once back on the boat, the drinking began! Days and times have almost become meaningless - had I not kept a diary I wouldn't have had a clue what day it was. Combine that with the wildly varying wake-up calls and late/early night finishes, it was no real surprise to find myself losing track of time and getting drunk by 7pm while it felt more like midnight. Andy was hanging from the canopy of the boat and trying to do flips, without much luck though. I just settled for hanging upside down from it.
Martin was the drunkest apparently, but I can neither confirm nor deny this - by the time he was puking over the side of the side of the boat I was on top deck under a blanket and set for the night. He was like a human pinball, so I'm told, and his crashing around on the deck wound up Geoff, our group's winge expert, who moaned about the noise he was making. More about Geoff later ...
It was fantastic to sleep on top deck and look up at the stars. With no light pollution from any nearby towns, everything is so incredibly clear - for the first time in my life I could actually see the milky way. And I am not talking about the chocolate bar! However, for some strange reason the stars were wobbling that night. I shut my eyes and they stopped wobbling. In a strange coincidence with this wobbly-star phenomenon I noticed also that 3/4 of my bottle of vodka had disappeared (but I swear I had help with this!). Looks like it's one for the X-Files.