A tour around the lake
Day 11, 29 Aug 2001
There are many tours you can take or excursions to nearby places of interest (including Varona, Venice and so on) from Garda. We opted for just a couple of them: a trip up to the Dolomites and a tour of the lake's towns. Today was the lake tour.
The day started overcast, and the outlook wasn't that promising. Our guide for the day spoke excellent English and German, and appeared to be most comfortable (and fluent) with her German. I had a big surprise though, and that was just how much German I could understand. Despite studying the language to A-level, I had never had cause to use it since, or travelled to any German-speaking country. However, when the guide spoke in German first and then translated in English, I could understand roughly 90% before the translation was provided. Still, ask me to give directions in German and you'll soon get lost!
Our route didn't cover every town on the lake. We would only be covering some of the towns, and most of it by coach. First stop was Gardone, where we caught a boat which took us south-west toward Sirmione. En route we skipped by a private island which is owned by the Ferrari company.
Picturesque stop in Sirmione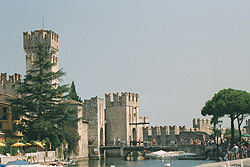 Sirmione offered a couple of hours' break for shopping, photos and refreshments. The town is arguably one of the prettiest on the lake, with its fortifications nudging into the lake. However, once you've run off a few rolls of film, there's little to do in the town. Although overcast earlier, the weather was once again baking hot, so the shops offered a welcome spot of shade as well as the obligatory tourist tat.
From Sirmione we got back on to the waiting coach (which had now caught up with us) and carried on to the small town (village?) of Lazise. Another very picturesque place. Great to visit briefly, but it wouldn't be on my hit-list of places to stay in the Garda region.
All in all, the tour was a bit of a disappointment. We only stopped in a handful of places, and cruised straight through others. It served well as an introduction to the towns, so we could at least get an idea of where to go un-guided. Limone and Malcesine were two places we passed through that caught our attention.
Betsy & Lorenzo sing!
One of the highlights of the holiday awaited us this evening: Betsy & Lorenzo! They were a husband and wife cabaret act that the hotel had brought in to entertain the dining guests. That is if entertainment means taking a cat, strangling it repeatedly over the top of a cheap-sounding organ or accordian. Thankfully the meal was a buffet, so we could eat up and get away double-quick!