Uphill climb after breakfast
Day 9, 27 Aug 2001
The view from the hotel window was a constant reminder of just how hilly this region is, and not far north were the Dolomites. Still, if you wanted to you could actually climb the mini mountain. About a quarter of the way up was a small castle type thing which was lit up at night and about two thirds up, a tiny (well from a distance it looked tiny) church. This too was lit at night, but in the morning light you could just about make it out.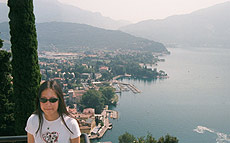 That was this morning's challenge then - walk up the hill, see how far we get. Having stocked up on water (which would be needed in this heat), we found our way to the start of the route. At the bottom of the route was a map with all the walkways. The first bit would be the easiest - a paved route no less. After the castle - Il Bastione - it would be rough tracks, then after the church it looked like ladders and climbing gear.
Right at the beginning I found a branch that had been shaped as a walking stick and left behind for others to use. I guessed that this happens quite a lot - there's probably a whole stock of them that just go around and around. After zig-zagging our way up for some time, we got to Il Bastione. In truth, there's not much to see there - the building is condemned and boarded up. However, what you do get is a stunning view over the lake and Riva. We didn't carry on up the hill - it had taken long enough to get here, and the view wouldn't change much if we were to go higher (and our water supply was beginning to run low). Back to Riva for a gelato and our next destination: Cascata di Verone.
Varona? Verone? Water's the difference
Do not confuse Varona with Verone. One is famed for its association with Romeo and Juliet, and the open air amphitheatre where major Opera events take place. The other has a waterfall and a gelato shop (and not much else). Verone's waterfall has formed after some 20,000 years of water erosion. The water courses through a fissure it has created by itself at great speed and provides a nice cool break from the hot weather. As you walk into the caved area, the temperature drops suddenly with the moisture in the air. Bring a cloth to wipe your camera lens if you visit - you'll use it regularly!
We then headed back in to the centre of Riva and through to the lake itself. There is an artificial beach (a shingle beach) and plenty of boardwalks around the lake in Riva. Everywhere you look people are strolling, riding mountain bikes and generally enjoying the lake. Although it may be inland, it feels more like being at the sea. The water also seems to have a tide of sorts. I had a quick swim in the lake, snorkelling around looking for anything that resembled aquatic life. There was a surprising amount of fish just feet from the shore, although they weren't exactly flush with colour.
Back at the hotel the menu suggested that our evening meal was going to include 'veal in tunny sauce'. That'll be tuna then.
Surreal moment: Sat in the bar, having drunk just two pints. Bus pulls in out front, and at first glance, everyone on bus appears to be a nun. Second glance: yep, that was right, it really was a busload of nuns, and they were all heading for our hotel. They were all carrying identical bags, the kind of bags you get at conventions. I tried to imagine what freebies might have been thrown inside the bags by the organisers of 'Dateline: Two Thousand and Nun', or whatever their convention might be called. Who would the main sponsor be?