Day 5 - Thursday - Selçuk & Ephesus>
Today began with a walk up the road toward the museum which has many artifacts and information about the site of Ephesus (or Efes, as the locals know it) that we would be visiting later today. As Neil was explaining the plan, he casually slipped in the fact that we would be stopping off for a 'carpet demonstration'. Ah yeah, heard that one before ...
A demonstration normally entails a salesman running through his stock then trying to sell them to you. That's it in a nutshell. Türgei, the shop owner, was a more relaxed fellow than some of the other more questionable carpet sellers in Selçuk (and Turkey in general). We sat and watched, drinking complementary orange and raspberry tea along the way, while each carpet's design was explained in detail.
We were shown different designs from various regions in Turkey, and were shown how to spot the difference between real and fake hand-woven rugs. And get this - there really was no obligation to buy. Türgei was cool as a cucumber. At the end of the day, this was the best way to look at carpets - no pressure, useful info and a recommendation from the good people at Explore that could be trusted.
The museum was the usual collection of headless statues, disembodied heads and occasionally even a complete body-head combination! The reason the two are usually separated is that the raiding parties went around smashing the heads off the statues of the people they've just run out of town. As an additional touch, many of these Roman statues were also 'Christianised' by having crude crosses carved into foreheads and such like. Augustus and Livia would not have been impressed by this.
The afternoon was free - no plans until 4 o'clock so we made the most of the break by doing nothing, given all the travel we'd had down to Selçuk. 4pm was a good time to visit Ephesus - the temperature would drop, as would the number of visitors. Our guide for this site was Necat, and he told as that just one week earlier the temperature just after midday was 52 degrees Celsius. Ouch.
Ephesus is arguably one of the finest ancient sites in Turkey. Arguable, because there are so many of them, and they all have their own unique features.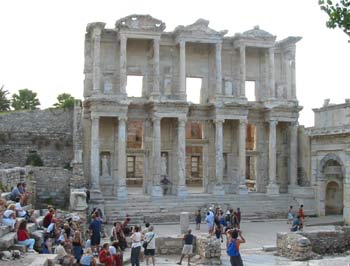 What Ephesus has in its favour is sheer scale. There are large areas of distinct attractions, including the heavily mosaiced floor outside what would have been 'boutique' shops, the fantastic library frontage, which is very surreal (there are columns, a portico and statues and then ... nothing), and finally the theatre. When we were there, preparations were underway for a big pop concert for the following evening. The theatre is the largest ancient theatre in the world and has outstanding acoustics. It has been used for a number of concerts in the past including José Carreras and Sting.
The person who decided it would be a good idea to bring Metallica along some years ago has probably found it difficult to get work of late, though. After that band's appearance, the site had to be shut for many years because of damage caused by the vibrations of the massive speaker stacks. Never mind earthquakes, just get some monsters of rock to get these monstrous rocks quaking!
We were originally going to head in to town for a meal but instead we found ourselves back at Türgei's carpet shop, or at least out the back of it. He had invited us, another Explore group and also guests staying at his hostel to come along for a barbeque. He had a hundred chickens to cook and needed mouths to eat them. Result! Free food for a night, washed down with the insanely cheap local brew (which normally costs just 40p for a 300ml bottle), topped off with the opportunity of watching the locals play their instruments and the visitors attempt the local dance. Until the police came along to protest at all the noise, that is ...