Day 13 - Friday - Ürgüp to Ankara, via Hasi Bektas>
Part 1 | 2 | 3
Ankara
I had preconceived ideas about what Ankara would be like. In my mind, it would be to Turkey what Canberra is to Australia - a capital in name but not in soul; a place of administrative procedures and busy government officials, but not a place to kick off your shoes and enjoy yourself. How wrong I was ...
As we arrived in Ankara, it was clear that this was a VERY populous place. If we had thought that Istanbul was busy, this soon put things in perspective. As we drove up the busy roads, people swarmed up and down the streets to our sides. When we stopped at traffic lights, a mass of humanity bustled past in front of us. This happened at seemingly every intersection, and every time we drove past another junction we got a glimpse through to pedestrianised areas that were very heavily frequented.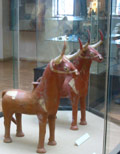 We were dropped off at the museum early afternoon and had a couple of hours to look around the exhibits. Is two hours enough? Depends on how interested you are in the topic, really. I was intrigued by many of the items on show which range from the earliest civilisations' stone arrowheads, through the Hittite stone carved friezes to more 'recent' Roman exhibits. The information provided with each artifact is, for once, well translated. However, if you have time I would advise hiring a personal guide to really explain things - those that I did hear following other paying museum-goers seemed to be doing a very thorough job.
After the museum, we had a couple of hours' break at the hotel before heading back out for an evening meal. As it was Manda's birthday, we opted not to go out for a group meal but instead try to find somewhere for the two of us.