Two weeks in Crete on a last-minute deal: from Chania and Rethymon to Iraklio, Chersonisos and Siteia, we packed it all in those 14 days!
Day 13 : 25 July 2003 : Chersonisos
By George, I'm gonna go diving!
This morning I took a ride up the road on the moped to meet a little red van from Deep Blue Diving Centre. I had arranged a meeting point with a guy in a shop one week ago, and I had given directions without knowing a single road name - it all had to be done by landmarks (and saying that you'll meet near the car rental place doesn't help much here). Add to this the fact that he was Cretan and, well, I wasn't and you potentially have a recipe for disaster.
I parked up the moped and waited at the agreed crossroads. A few minutes later I saw a little red van go past me and turn the corner. Away from me. Oh dear. Perhaps the driver was going to another set of crossroads? I waited for a few minutes trying to decide what to do - to stay or go. I hopped back on the moped and fired it into life then sped down the bumpy road in the hope of catching up, but I didn't spot the van parked anywhere. Oh. No. What if I had been at the correct place originally? I turned around and sped straight back up the road to the agreed rendezvous, hoping that that they hadn't turned up, found nobody waiting and gone off without me. Well, I was almost right - as I got to the top of the hill, I could see the van waiting, so I opened up the throttle so that I made it in time. Phew.
The driver took me and one other person to the dive centre where we got kitted up and made our way to the rib boat which would take us to our dive destination. The irony of it was that the route we took was straight back in the opposite direction that we'd driven - had I got a strong pair of binoculars I could have seen the little moped parked up by the roadside, waiting for my return.
Our dive this morning was in a place called St George - a large lump of rock not too far off the shore with a depth at its base of around 12 metres. Visibility was reasonable - maybe 6 metres - but there were not many fish to see and it wasn't very colourful. Still, I was getting a dive in. My dive buddy was a guy called Sebastian who was apparently higher qualified than me (I was only an Adventure Diver at the time), and as such was told at the surface that he could go through a tunnel in the rock with a different buddy at the end of the dive, while I would have to follow the dive leader.
Dive qualifications don't always mean much - while I had only had about 15 dives to date, and it had been almost a year since the last dive, I was immediately back in the swing of things; conversely, the 'more experienced' Sebastian was an awful dive buddy who looked like it was his first time in the water. In our group of 8, he was always the last, always at the back slowing me down as I kept having to stop, check where he was, wait for him, circle back just to keep myself moving; even the guy that was supposed to be following us and holding the line that was connected to the surface marker buouy was overtaking him. I felt that Sebastian and me were almost isolating ourselves from the group.
Not only was he slow, but Sebastian hadn't quite mastered buoyancy - I regularly heard him inflate his jacket, which caused him to rise towards the surface whereupon he'd dump air and come back down again. Up, down, up down. This was getting frustrating ...
Despite the duff dive buddy, I did enjoy it - we got almost an hour in the water varying between 12 and 6 metres and even got to see an octopus that the dive leader found nestled away - it was a good sized one too, perhaps two feet long, and really enjoyed squirting ink all over the pesky dive leader for disturbing his rest.
After the dive, I was chatting with the driver, telling him about the snorkelling in Mochlos Bay. He told me that there were some excellent places in Chersonisos - just down from where we'd stayed the last two weeks. He gave me directions, and I checked it out on the moped; he was right - there were some lovely spots, and not just for snorkelling but generally quite picturesque areas that were virtually on our doorstop that we had no idea about. So I went back to the apartment and told Manda to get kitted up and ready for a ride on the moped, then we went straight down to take a look.
Once again, I found myself back in the water for a spot of snorkelling. The water was incredibly clear and there were some fish to be seen, but it wasn't quite up to the standard of Mochlos. Still, I'm not complaining (although it would have been nice to know about this spot earlier in the holiday, grumble, grumble).
For dinner we stayed local - a restaurant that we'd eaten at once before in Chersonisos (just after our walk back from the bus stop after the Iraklio trip). As we waited for our food, I noticed that next week's menu items, chickens, were escaping. Slowly. I went to find the manager to report his naughty chickens' behaviour, but it seems that they were allowed out for a bit of a stroll and a bit of a peck.
We still had a little bit of time left before the moped was due back at the rental place, so we went back to our recently-discovered beauty spot in Chersonisos then followed the road straight through until we got into the main part of town (and spotted the Olympic rep Aaron on his moped who pulled up alongside us at a junction). This was still new to us though - although the shops looked familiar, this was definitely new territory for us. I tried to find an ATM and thought I knew where I was headed, but ended up going around in circles. However, I did spot an ATM (not the one I was aiming for) with a long queue for it. I looked at my watch and realised that we had just 10 minutes to get the cash and ride back up into the hills to the rental place. Why do I always get stuck behind people who appear to be using an ATM for the first time in their lives?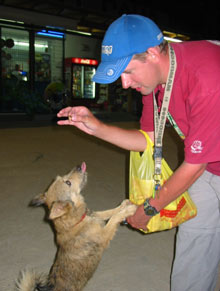 We made it in time, then walked back to the apartment. As we walked past the supermarket I spotted Jack lying down out the front on the forecourt - he looked like he was just waiting for the next gullible person to come past to buy him chocolate. That would be me, then ...