Two weeks in Crete on a last-minute deal: from Chania and Rethymon to Iraklio, Chersonisos and Siteia, we packed it all in those 14 days!
Day 12 : 24 July 2003 : Tholos beach, Siteia, Mochlos
Tholos, Siteia and Mochlos
So we'd gone west. Twice. About time we headed over to the eastern half of the island, eh?
Looking at the map and cross-referencing that with our guide books (hey, now how methodical does that sound?) it became clear that most of the tourist attractions that don't include beaches were all to the west of us - we'd seen Iraklio, Rethymno, Chania and Samaria Gorge, along with other stop-offs along the way; to the east we'd already covered Agios Nikolaos by moped and the only other town that seemed to be of any decent size was Siteia. So that's where we headed.
Having passed through Agios Nikolaos, signs of civilisation began to thin out and all we were left with was the open road and stunning views over the sea, something like this:
Along the way I kept my eyes open for a suitable snorkelling stop-off. Passing through a little village called Tholos I thought I may have come up trumps. There, on the corner of a small side road, was a battered-looking hand-painted sign that simply read 'Beach 2km'. We couldn't see it, but 2km wasn't too far to take a chance, and I reasoned that it would probably be quite quiet given its understated signage (and the fact that it was not mentioned in the beaches page of the Top Ten Crete book). The dusty road did indeed lead us down to a nice spot - secluded, not many people around and just one 'shack', for want of a better expression, where you could buy a cold drink. I went for a swim while Manda chilled out in the shade of the eating area.
We didn't stay too long - we still had a fair distance to go until Siteia. Occasionally we would see an official lookout point on the road. We stopped at one of them just after our stop in Tholos and it was soon obvious why the authorities had created a little parking area on the cliff for the tourists: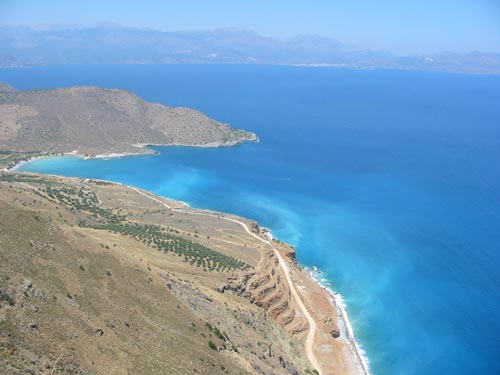 We were looking right back over the bay that I had been swimming in moments before and the colour of the water was absolutely incredible. It was so good that I decided a join-up panoramic photo was in order (stitched together later in Photoshop):

We continued through increasingly twisty and narrow roads on to Siteia but once we got there I started to wonder if the best bit would be the drive there (and the drive back out). There didn't appear to be much to see here, but we parked up anyway and took a wander down the harbour.
A Venetian harbour, said the guide books. Well, that may be the case but Siteia's harbour lacked the character of Chania's or Rethymno's (and it was also missing a lighthouse). However, it still looked like it might have been the most scenic spot in town. As we walked along the harbourside we noticed that the restaurants here were not very busy - where were all the tourists? Had they heard Siteia was a bit dull too? One restaurant owner saw us and did the usual 'pouncing on you the moment your eyes flit towards the large menu comprising photos of the dishes on offer' thing. Naturally, his food was 'very good', 'special greek recipe', 'very nice' and so on. The thing is, we were hungry so he didn't really need to do the hard sell thing. We sat right next to a loud speaker which was playing traditional greek music (thankfully not loud), but there was something strange with it. Evidently the speaker was one of a stereo pair and in the music playing the singer's voice was panned far across to the opposite speaker, the one that was missing. Consequently what we got on many of the tracks was a strange echoey rendition that made it sound like the band were happily playing their bouzoukis while their front-man languished deep in a cave.
We had ordered a set menu at the restaurant and the final course was 'cheese pies with honey'. It sounded, erm, different. After a little prompting, the manager realised that he'd forgotten to bring out the final course, and perhaps that would have been a blessing in disguise, but then I'd have even less to say about Siteia ...
Cheese pies in honey. That would be feta cheese, presumably. I couldn't say for sure because we didn't actually eat them - the dead ants on the plate kind of put paid to that idea. We counted 5 ants underneath the 'pies' (they looked more like ravioli) and one other that had managed to scale one of the pies before meeting his sticky end. We wondered how the manager could possibly not have seen them. We spirited away a couple of the pies in a tissue to make it look like we'd eaten something, then asked for the bill. When it arrived Manda took a knife, picked up one of the ants and wiped it on to the receipt with the money - "we know". I didn't have the nerve, though, and removed said insect before making a hasty retreat.
We left Siteia pretty soon after that. Well, like I said - the views from the drive had much more to offer:
We had another stop-off on the way back, a place called Mochlos. Like Tholos, it was fairly secluded - a little village with a tiny island just off its shores that is home to just a few sheep and some ancient ruins. I could see as we drove down the winding hill that this was perfect for snorkelling. The water was crystal clear and once in it I easily had 40 metres of visibility. I was loathe to leave this place - it wasn't just the best snorkelling of the holiday, but possibly the best snorkelling I'd ever done (with the exception, perhaps, of Clovelly Bay in Sydney).
We headed back leaving ourselves plenty of time to make the 8pm deadline for return of the car. The plan was to drive it round to the rental place in Chersonisos (rather than have them collect it) and then immediately get another moped from the rental place next door. However, when we handed the car keys back, the salesman had a surprised look on his face and he was asking us if we wanted it for longer. I checked the date on the contract and realised that it was booked until tomorrow - had they put me down for four days' rental? Actually, it was just three days, but we didn't need to bring the car back until 8am. We needn't have rushed back after all, but decided to relinquish the car anyway and go for the moped, as I was going to need it tomorrow to get to my rendezvous point for the morning dive.
We finished the day with a trip down to Chersonisos centre for a nice Chinese set meal for two.