Port Augusta to Ceduna
11th July, Port Augusta to Ceduna, Australia
I remember reading in the Lonely Planet about Ceduna that it was 'still a long way from Adelaide'. The implication - you may think that you've done the West-East crossing, but you're still in for some long hours of driving. Great. We hadn't even got to Ceduna heading from East to West, but that would be the aim for today, even if it was only part of the journey (about one fifth).
We did, however, reach our first milestone in the journey today - we officially crossed the half-way point across Australia at a place called Kimba.
Naturally, there was a tourist shop selling 'half way across' type merchandise, but we weren't buying. We did spot the Big Galah, though - you may remember from previous diary entries that the Aussies seem to have a thing for these 'big things'. Incidentally, the phrase 'you great big galah' would be a very minor insult over here, meaning 'you stupid idiot'. For some reason, galahs have got something of a bad press over here; I have no idea what makes them the epitomy of stupidity.
Even though we had reached the half-way point across Australia, we were not even at the 1/5th mark of our journey to Perth. Ceduna still seemed quite a distance away:
After a good four hours of driving, we pulled over along the Eyre Highway for a spot of lunch (a couple of cup-a-soups) and bit of a rest for an hour, then made for the road again. Oh crap, I thought, as I turned the key and nothing happened. No mobile signal, and even if there were, there would be no breakdown cover for this distance. "Are you sure you still want to go across the Nullarbor?!" Manda asked. We had, by this time, committed ourselves somewhat. However, it really wasn't the problem I thought it might be - I slipped underneath the van and checked the contacts to the starter motor. I gave them a wipe and a quick spray of WD40 and we were good to go once again - turning the key resulted in the van firing up straight away. But perhaps what I really needed was a can of this: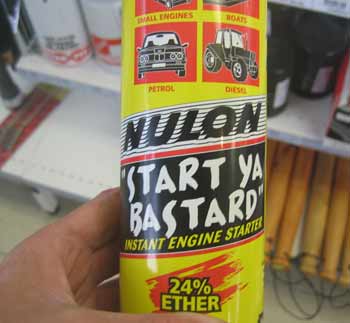 Genius!