More of Wat U Need
5th September, Chiang Mai, Thailand
Another day with a moped means only one thing - another day of racing around Chiang Mai looking at Wats (or temples). We had a little map all ready with the bigger wats circled and I had a rough idea about the route I had to take to get to them. Our first stop was at Wat Chiang Man. I had already seen this one myself a few days ago when we first had a moped, but I hadn't actually stopped or gone inside (I had just been locating the place for later inspection!).
Wat Chiang Man may not have the spectacular hill-top location of Wat Phrathat Doi Suthep, but it's still a very impressive place tucked away in the middle of the city's moat-surrounded old quarter. As we walked up the steps of the temple, slipping off our shoes by the entrance as is the custom, I once again saw the resident three-legged dog basking in the sunshine. He knows a good opportunity when he sees one - dotted around the wat are donation boxes; a poster announces that it is for medicine and food for the local strays, and underneath the poster, a photo of a happy-looking dog walking in front of giant bags of dog food.
Not knowing much about Buddhism, taking a look around the inside of the wat was interesting but not too instructive - the pictures on the wall do not mean much to either of us. There was some information that had been provided for the benefit of (English-speaking) westerners: some A4 sheets explaining the history and origin of the Buddha and others explaining the different poses of Buddha statues and what they represent.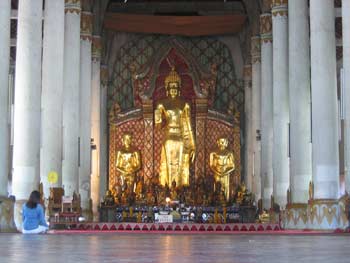 We took the brief stroll from the main temple to a smaller, but more elaborately decorated, temple next to it. As we made that 20-second stroll, we caught a glimpse of a golden stupa that was previously hidden behind the bigger temple but was now sliding into view, reflecting the mid-day sun brilliantly. We looked at the decoration inside the smaller temple for a short while, making the most of the relative cool that the dim interior offered. We then took a walk around the golden stupa that we had just seen, or to give it its proper title, the Sacred Elephant Encircled Stupa.
A short ride away from Wat Chiang Man is another highly recommended temple, Wat Chedi Luang. This is a much bigger complex than Wat Chiang Man with an interesting mixture of old and new. The newer temple buildings were nicely decorated on the outside but inside were fairly plain; signs dotted around the place apologised for the mess of renovation (I couldn't see any obvious signs of improvement though!). Of more interest at this site is an old Lanna-style stupa that dates back to 1441. It has undergone significant restoration - from about the 16th century up until the early 1990s, there was little to speak of other than a general shape of bricks. An earthquake and fire had all but destroyed the structure, but with the restorations of late there is now a very impressive sight to behold; the spire of the stupa has not been rebuilt because, frankly, no-one knows what it looked like!
There are three giant golden Buddha statues set inside alcoves at the top of the structure and worshippers visiting the site can make offerings to the Buddha by using a pully system that's set up. The offering would be water, which is placed in a flask-like container and then winched up to the top of the large structure. Once up the top, a bit of manouevring of the ropes tips the flask over. I'm not sure of the significance of all this, but it was still interesting to watch others wrestle with the ropes as the pully system squeeked away.
Like I said, I'm not going to claim I understand all about Buddhism, but somehow this sign, which was one of many 'words of wisdom' dotted around the site, seemed very un Buddhist-like: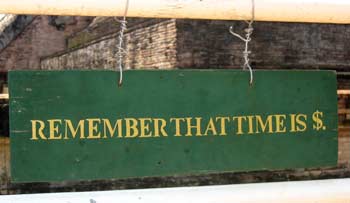 In the evening we headed over to the Night Bazaar. This takes place every night, but tonight was also the night when Ratchadamnoen Road transforms into a street market (we visited there last week).Because of this, there were probably fewer people at the Night Bazaar than usual.
This was good from our point of view as the alleyways are very narrow, and it probably gets quite busy but it had a down-side - the market traders had fewer people passing their stalls, so each and every one of them would try to entice you to take a closer look at their wares. A polite 'no thanks' usually does the job, unless you are up for a spot of haggling. I'm no haggler, though, so Manda did the dirty work for me. I'd spot a T-shirt, Manda would ask if I want it, do I really want it, and if so would begin haggling on my behalf. She did this several times, and I came away with a couple of T-shirts and a pair of Diesel (yeah, right!) trousers. There are real bargains to be had here, but only if you are thick-skinned and not afraid to push the price down, down, down. Well done, Manda!