Arrival in the Algarve
Many a time when we've gone on holiday, the actual holiday and itinerary itself has meant that we've felt like we need another holiday afterwards. Case in point – short city breaks. Typically, you have a few days, usually over a weekend and the flight times may not be brilliant either, so you end up trying to maximise your time in the location, with trips here there and everywhere. Well, that is certainly the case with us, especially during recent times. We do like traipsing around the old cities and admiring the architecture; if there's a bridge, we'll cross it, and if there's a tall tower (usually without a lift), we'll climb each and every step to get the view from the top. But it can be tiring. This time around, then, we've deliberately gone for a beachy type holiday. Sure, we'll explore a bit while we're here but the plan is to chill out. After the last week alone, I know I'll need it (having been back and forth to South Devon, Birmingham, London, and Kent). And now we were heading to Portugal. Get me to a sun lounger!
The flight was OK, a bit cramped as we were sat right at the back (I really wanted to stretch my legs!) – just as well that it was only a two and a half hour flight. Upon arrival in Portugal, there were a couple of confusing moments, first when a whole raft of us walked in the completely wrong direction when leaving the plane. We were all blindly following the crowd, assuming that they knew where they were going, until someone at the front realised the error of their ways and we did an about-turn, looking up and seeing that the baggage reclaim signs were pointing in another direction. The second confusing moment came when we were directed on to our transfer buses – we were told bus 3, but the driver directed us to another bus. We put our faith in the driver, repeating to him the name of our accommodation and the location, then sat ourselves on the bus and watched as numerous others walked past and had similar confusions with the bus numbers they'd been told. Moments later, our driver was swapping the number on the back of his bus.
On one of the drop-offs, we got our first glimpse of the Portuguese motorists. As the bus we were in was about to pull in to a complex, the bus driver motioned for a pick-up who was waiting at the junction to come on out (as the bus could not turn into the road with him there). Seconds later, there was a screech of tyres followed by a loud thump as a white Fiat that had decided to overtake the waiting bus slammed into the rear quarter of the emerging pick-up. Note to self: when driving rental car on this holiday, expect the unexpected. Oh, and get insurance with the car!
After the various drop-offs were made to other hotels (including the Valesia hotel which, with the Thompson Holiday rep's Scottish accent sounded more like 'Fellatio Hotel' – and he said it several times), we pulled in to 'The Strip' in Albufeira's new part of town, known as Montechoro. Immediately I noticed a 'Missing' poster, stuck on the inside of a car window parked at the top of The Strip. It was a poster for missing Madeleine McCann, who disappeared 10 days previously in another holiday spot on The Algarve, Praia de Luz. It was a big story before we left – many people we told about our imminent trip to Portugal have made some comment or other about 'keeping our eyes peeled' – and it was obviously big news here. More than ever, I was aware of the number of families on holiday with small children and thinking about what must be going through their heads. Was it my imagination or were they all holding on to their kids more than they might otherwise? Of course, I have no way of knowing.
We had read up on the complex we were staying at and found out that Block 4 should be avoided as it is right on The Strip. We had a plan – as soon as the coach stops, I would head straight for reception and beat the crowd, while Manda would mind the luggage. I wanted to make sure that we were not in Block 4 to which the guy in reception said "No, you have one of the villas," in a way that suggested I was bit silly for not knowing where I was staying. We really had no idea where we would be placed, but once we stepped inside the villa we were very happy with what we saw – it was a split level villa, with the bedroom on a mezzanine floor accessed by a very steep wooden staircase.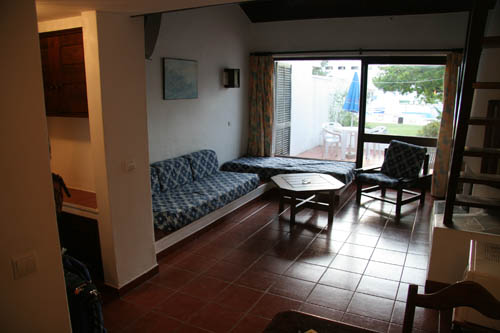 And, to our surprise, there was air conditioning! This was not mentioned in any of the Thompson details, nor the customer feedback we had read. Maybe they'd only just been installed? We unpacked a little then headed straight back out for food – our first Portuguese speciality, piri piri chicken. We sat on the balcony of the Ancora Steak House with the sun setting and started the process of unwinding.