Day 3: Albufeira Old Town
We started getting a bit adventurous today. Adventurous in the sense that we ventured beyond the street outside our complex of villas. At ten o'clock we were making our way down the hill towards Albufeira's old town, sitting in the carriage of the local tourist train. Well, I say train, it's more of a tractor engine or child's toy – or could it be a milk float dressed up in some other guise? – that's supposedly powered by BMW. That must be a joke, as this thing travels at around 15mph tops!
On the plus side, it does give you the opportunity to take drive-by photos that have a fighting chance of being 'keepers'.
The little train deposited us in a fairly anonymous looking square of some kind. This didn't appear to be a bustling part of town but I sensed that more interesting parts of town were not far away. We looked around and hazarded a guess about where to head next (as, somewhat ingeniously, we had left our free map of the old town back in the villa), settling on an alleyway that appeared to have a few shop owners getting displays ready for the day, suggesting this would be a tourist thoroughfare. It actually lead us right down on to the main beach, Fisherman's Beach (or Praia de Pescadores to use its local name), which was a lucky guess. To be honest, though, you really can't go too wrong as long as you know which direction the sea is.
We made our way along the beach towards one of the rocky outcrops that stands on the beach (like many of the beaches in the Algarve). It was roped off, presumably because it's a little unstable, as was a walkway nearby, so we made our way up and off the beach another way, stopping briefly for a snack and a cool drink.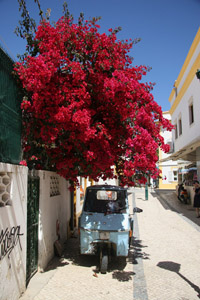 We then made our way back in to the old town, through the narrow cobbled streets that seem to be a feature here (that is based on our very unscientific and hugely unreliable sampling of two locations – assuming you count the old and new parts of town as separate locations!). We had read and also been told that these cobbles, while attractive to look at, are highly impractical in the event of rain. Heck, they look polished enough in the dry weather, so the thought of struggling up a steep alleyway in the wet is not a good one. That said, there doesn't look to be even a hint of rain for the time being – it's been clear blue skies and hot days up til now.
We carried on wandering through the streets without any particular bearing or intention, then quite by accident found ourselves back at the main town square. The sun was very high now and in the open square it felt like it was radiating back off the smooth grey slabs that formed the centrepiece of the square. The palm trees did little to keep the rays off, so we took refuge in any shady spot as we investigated what there was around the periphery of the square.
Lunchtime soon came around and we found a table under a sun shade that cast us both in an orange hue. I was a bit disappointed with the meal here. Normally I find that eateries in locations like this charge more for the privilege of your being able to sit and watch the world go by, but the food is usually pretty good with it too. I ordered a pizza, but rather than a stone baked juicy meal what I got was a bit insipid – it looked like a microwaved Tesco Value brand pizza. The restaurant was called Oasis, and you know how oases can only disappoint, ultimately.
We spent the rest of the afternoon much as we did the morning, just strolling around the little shops, occasionally snapping away with the camera at something or other, until we'd seen most of the old town and headed back on the little train up to the new town and The Strip. There was just one other stop along the way that the train makes, and that was at a shopping centre called Modelo, so we hopped off there for a quick scoot around the aisles. It was much as you'd expect a supermarket to be but there was one thing that I'd not seen before which struck me as kinda cool – the shopping baskets could be carried in the normal fashion on your arm but with a quick adjustment you could drag them along with an extendable handle behind you on their wheels, a bit like you can with some luggage. It helps to take the strain, a useful thing when you discover that a 6-pack of local beer costs just €2. I made a mental note to buy some on the next visit here once we'd hired a car – and that would be our first task for tomorrow (i.e. hire a car, not buy more beer!)