Day 7: Loulé and Quartiera
Yesterday's long (and sometimes stressful) drive to Lisbon, around the city and back made me want to have an easy day today, but what's the point of hiring a car for four days and not using to its full potential? So, a compromise – a slightly later start today, but a car journey nonetheless. And it just so happened that today is the day that the gypsy market comes to Loulé, a town not far north of Albufeira. Thompson (the holiday company who we got the break with) offered a tour to this market for the princely sum of €26. Really not sure what that money is covering, other than a coach trip, as the market is free, so it made sense to do it by ourselves. Once we'd got into Loulé and dealt with the now very familiar traffic and parking issues, we wandered over to the brightly coloured market building.
Walking through the market, it seemed that anyone paying for the tour with Thompson would be very disappointed unless they were keen fruit and veg lovers. Or dried fish lovers. Had we got the right place?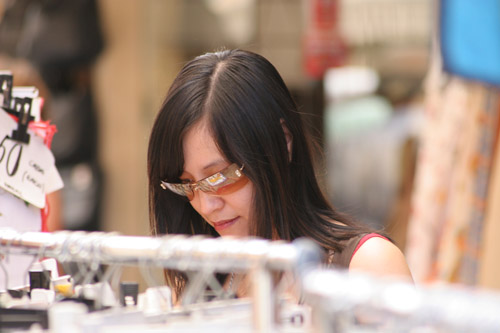 This didn't appear to be a gypsy market at all, but it was in the market hall and the signs all pointed to the market being here and it was the right day for the market! Well, we didn't want to buy any fruit so we headed off again in our little VW Polo and off for a spot of lunch at Mato a Vista, the restaurant we stopped off at two days ago.
When we first got the car and went to Faro, it wasn't entirely successful, what with the accident and the failure to see the bone chapel. Now, with a bit more driving experience under the belt and some more knowledge of the area in general, we headed back to Faro again with the aim of seeing the bone chapel. Second time lucky?
As we got to the centre, we noticed police stationed on some of the street corners managing some kind of diversion. I knew how to get to the church, but the police were pointing us away from it, so I tried a wider outer loop and still ended up back at the same spot and being diverted away again. Was this a message from above? Were we supposed to see this place or not? Eventually we managed to find our way to the location of the church that houses the bone chapel, parked up then walked on over. And as we walked, well ... those big old heavy doors weren't closed last time, were they? Oh great ... it looked like we'd failed again to see dem bones. The Church was open only in the morning on Saturday, on all other days it was open in the afternoon. And today is a Saturday. Typical. So we left Faro once more, with me cursing that flaming elusive bone chapel. It must be fate.
On the way back we stopped in at a place called Quartiera, for no other reason than it was a beach location we hadn't yet checked out and so many of the beaches have these impressive rocky stacks on them that we should probably take a look. As it turned out, Quartiera's beach was pretty featureless – just a long strip of sand - so we only stayed for as long as it took to have a cup of tea (how civilised!). Then we continued on a little further to Vilamoura, a resort known for its marina and the nearby golf courses. Given that neither of us own a boat or have any desire to swing a golf club, Vilamoura didn't really have all that much to offer us. I actually felt that this was the least authentic Algarve experience yet – there seemed to be little in the way of atmosphere here, but perhaps we had not seen the right places or been there at the right time. Personally, I think I might have been disappointed if we'd chosen Vilamoura as our holiday destination instead of Albufeira. So, we didn't even stay for a cup of tea here, instead heading on back to our little place on the Algarve to finish up the evening with a meal on The Strip, right on our front door.