Day 5: Silves, Monchique and Alte
Yesterday we'd used the car to see us around the coastal areas, so today we plotted a path through some more inland areas. The itinerary was to visit Silves, Monchique, Foia and Alte. But before all that we took a quick look at something nearer to home – Albufeira Marina.
The Marina is not a million miles away from the old town in terms of distance (it's a kilometre by the road) but it is in terms of style. With its multicoloured pastel styling like the art deco buildings in Miami, it's a complete contrast to the whitewashed walls of the old town. It looked like the kind of place that only the most well-off residents could possibly afford to live in, but then that's probably the same for any marina. It was one of those 'park up, take a few photos then go' type affairs. And the place we went to next was Silves.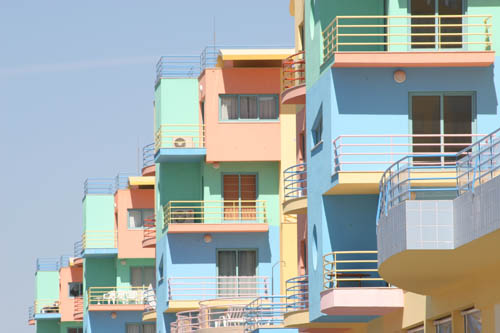 Silves may have lots of interesting things to see and do, but the main reason for coming here is plainly obvious as you draw closer to it, sat as it is right there at the top of the hill. I'm referring to the very prominent castle. Despite the high location, we were able to drive up almost to the front gate of the castle (I usually expect to only get a certain distance and then have to trek the remainder on foot). The sun was unrelenting here and being further away from the coast, there was no respite in the form of a coastal breeze. Oh, and of course castles aren't well known for their roofs! We walked around most of the castle wall's perimeter taking photos of the turreted defences and the countryside beyond then went back to the car and made our way to our next stop on the itinerary.
We arrived at Monchique but almost drove straight through. It's not like many towns we'd seen so far – there was not an 'outskirts' or an obvious central area, as Monchique is nestled in very heavily wooded hills. Twisty rounds and tight turns were the order of the day, once more. I managed to find a place to park, but it seemed that I was on one of the town's exit roads – I'd managed to drive through most of it. Assuming that it would be difficult, if not impossible to loop back round later (because of its position in the hills), I decided to walk back up and check it out, camera at the ready. Somehow, it didn't really grab me and so we decided to keep on moving. Foia didn't register at all on the satnav, so we let it direct us out of this hilly region and on to Alte instead. Or at least, as near to Alte as possible.
The way I use satnav may not be the same as others use it. I make use of the pre-programmed 'Attractions' lists, but if the place we're looking for is not listed, my next plan is to tap in the name of the town and then look for the nearest fuel stop (on the basis that most towns have one, and they are mostly in the centre). None were showing up nearby, but then this was a rural area. So I tried looking at restaurants near to Alte. The closest was showing as 4 miles from Alte. "That'll do," I thought. We can stop for a bite to eat and ask for directions from there.
It turned out that the route to the restaurant would take us through some really attractive parts of the countryside, including many winding routes through orange and lemon groves. We really felt like we were in the middle of nowhere, then as we emerged from the groves we crossed a bridge over a major motorway and arrived at the destination, a restaurant called Mato a Vista. It looked like the perfect stop-off, and I imagined it was a popular stop for tourist coaches. We had a great meal in beautiful surroundings, complete with a scoop of ice cream for desert for the first time in this holiday, then made our way to Alte based on directions provided by our waiter.
Or rather that was the plan – when his simple directions didn't appear to match the roads ahead, I made a snap decision and then partly followed my nose (cue "It's big enough" joke) and partly satnav, which knew nothing of the dusty roads I was on at all. Eventually, though, it all came good as we emerged on the main road that I knew would take us up to Alte (because of our waiter friend). We could easily see it up ahead, glowing white against the green hills. I can only assume the town name has something to do with 'height', and if that's the case it lives up to its name. One of our guide books described it as 'a pretty hill village, built around a series of gushing springs'. It was certainly an attractive little spot, but I saw no evidence of these springs (either I wasn't looking in the right place or they were 'turned off').
Aside from a little café in the centre, there did not appear to be much to do in Alte, other than the usual wrestling of steering wheel as you navigate through the tiny little cobbled roads. It was another sleepy location for taking a few snaps in and then driving on to the next destination, except this time we had no next destination. Instead we headed back to the villa at Albufeira for a chilled evening. Heck, we even cooked something for ourselves (this may be self-catering here, but we've let others take the strain so far). Tomorrow would be an early start as we would be driving up to Lisbon. We didn't want to go on the Saturday, assuming that it would be busier with weekend break tourists, so it left Friday as the only opportunity.