On my way to Sydney
Day 1 ::: Tuesday 5th September, 2000
"You know the problem with England, mate?"
The Aussie guy froze, desperately waiting for my signal that he should go on.
"No, what's that?" I obliged.
"Not enough toilets"
This was my first meeting with a genuine Aussie on the outbound trip from the UK to Sydney. I was waiting in a musty Bahrain airport at some ridiculous time. He had his bike with him - all wrapped up in polythene and held together by duct tape. He was, as it transpired, slightly left-of-centre. If I didn't know better, I would have said he was from Queensland - they say they're all mad as March hares there - but I did know better (he'd just told me he was from Melbourne).
The Aussie was obviously looking forward to getting home to the comforts that plentiful public conveniences afforded him. Ironically, the queue we were standing in was only feet away from a public convenience. I chose not to tell him what he was missing. Besides, eyes alone were not necessary to establish that we were near a toilet.
Now, I thought I knew what to expect of Aussies - a friendly, approachable bunch with no façade - and later my expectations were proved right, but this guy had a slightly vacant stare and the kind of line of conversation that had a subtext. It was this: "You really don't want to be sat next to me for the next 12 hours." Or perhaps, as the Ikea adverts would say, I was just 'being too British'? Nah, he was just odd.
Thankfully, for the next 12 hours all we saw was food glorious food, free drinks, desert, sea, re-runs of extreme sports shows and a Singaporean aircraft-cleaning crew. And the odd wink of sleep.
Busy time for Sydney airport
We were flying in to Sydney at an exciting time - just a week away from one of the biggest events on the globe, and one that was likely to set the standard for years to come. That show, of course, was the Summer Olympics, or Sydney 2000 as it was better known.
At around 9pm Sydney time, after a day's flying, the plane banked right over Sydney Harbour giving me a perfect view of the city, the bridge and, nestling in below it in the foreground, lit up like the sails of a boat, the world famous Opera House. Neon lights glittered and shimmered in the harbour's water. Moments later we were at Kingsford Smith Airport and ready to begin the Sydney adventure.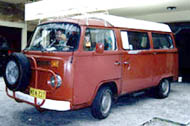 Andy, Wendy and Winnie met us at the airport after we had gone through the ritual of denying that we were smuggling any malicious pieces of wood or seeds. Yep, that's right - never mind contraband, it's seeds and such like that they're desperate to keep out of the country. Too many people in the past have affected Australia's unique flora and fauna irrevocably for one loony reason or another, and they're not about to let it happen again.
Winnie was a crotchety old bird, and if you'd been thrashed all the way from Darwin down the east coast into Sydney, NSW, you too might be a bit rough-looking. Winnie was the VW Camper that my brother - and probably countless other travellers before him - had relied upon over the last year or so.
Winnie took us back through the southern suburbs of Sydney back to my brother's apartment in Bondi Beach, which was to be my abode for the next few weeks.