The opening of the Sydney 2000 Olympic Games
Day 11 ::: Friday 15th September, 2000
This was it, the day that people all over the globe had been waiting for: the official opening of the 27th Games of the Modern Olympiad, or Sydney 2000 to you and I. While people were probably working themselves into a frenzy around the city, we had a very lazy day by contrast (to begin with). Most of the time was spent around Bondi, looking in the various shops on offer.
Shopping in Bondi
Bondi has a few good music shops, plenty of little clothes shops, more than its fair share of bikini/swimwear shops, along with a good selection of coffee shops and restaurants. On any given day, no matter what time, people line the pavements all along Campbell Parade taking in the day's news from the massive daily papers (The Sydney Morning Herald, and The Daily Telegraph being amongst the worst offenders) over a flat white. That's a coffee, by the way, and is essentially a cappuccino without the froth, but you might also have a long black (a regular black coffee), a short black (espresso) or a macchiato (espresso with a dash of milk). For us, it was flat whites all the way, with the occasional cup of tea (how very British).
It was quite easy for me to see how attractive a pastime this could be, this whole coffee shop/newspaper thing. Hogging a seat for the best part of an hour, overlooking Bondi whilst trying to fold a newspaper the size of a thick beachtowel into a shape that would fit on the table and still allow the coffee to share that same table space. This is something you can only achieve with practice. But we didn't have time for all that.
Manda picked up a bargain in one of the clothes shops while I bought a copy of The Beach in the local book store. I felt almost embarrassed buying it, I mean it's a bit of a cliché - people travelling, reading that very book. I felt like announcing to the girl behind the counter that I wasn't actually yer average round-the-worlder but was only here for a few weeks, and therefore didn't qualify for that particular cliché. Thing is, if I did that I'd only brand myself as another kind of cliché - 'The Olympic Tourist', and I wasn't that either. We'd booked the flights with Gulf Air for these dates because these were the only ones available that month, and it was just lucky that we managed to catch some Olympic action! The main reason for visiting was to visit my brother - the Olympics were a lucky side effect.
As we headed back up Campbell Parade we were going to stop for a quick coffee when we recognised someone sat outside. It was Philby. Haven't seen him in over 5 years, then I see him twice in one week. People living in the same house sometimes might not see Philby twice in one week, so we were honoured! He was on his way over to pay a visit - this wasn't a chance encounter - so he joined us as we walked back up the hill to base camp for a few chilled beers.
Olympics Opening Ceremony
There was an update on his laptop plans. They'd been scuppered. He'd managed to delete something important from the system and now it wouldn't boot up at all. This was so like Philby.
In the evening we headed back out to Circular Quay to watch the Opening Ceremony of the games. As with the previous night at The Domain, Circular Quay was broadcasting on massive screens, and these venues (which also included Martins Place, Darling Harbour) would continue to do so throughout the games. Whenever there was a big event for the Aussies (Ian Thorpe swimming or Cathy Freeman running), these venues would be rammed with people and offer the best atmosphere.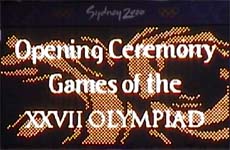 Tonight was a big night for everybody though. We just about found a space to sit on the floor (it was very cramped), and watched the opening ceremony, followed by the individual nations marching in and then the lighting of the flame itself.
I would not normally sit through the procession of the different nations but there were two reasons to do so this time. Firstly, it was really intriguing to hear and see the crowd's reaction as different nations entered. You soon find out who they like, who their best buddies are, who they wouldn't care to share a cold tinny with. I remember feeling uncomfortable, wondering whether UK would be cheered or booed - Princess Anne's mug was booed earlier in the proceedings when it appeared on the big screen! Thankfully, I wasn't made to feel like a member of a pariah state, as Team GB got a good cheer from the crowd.
The other reason for enduring the procession was simple. We could not move. If we had, we would have lost what precious little seating space we'd staked already. It was also extremely difficult to walk through the mass of seated people (as I had already discovered when I tried to find a toilet. It took an absolute age to get there and back, and involved kneeing people in the shoulder/back, treading on coats/fingers etc, but rarely the floor.
Lighting the Olympic Torch
When it came to the lighting of the Olympic Flame, this was a really stunning moment. The identity of the person who would light it had been a very well kept secret. As the torch entered the stadium, it was passed to a succession of former Aussie female sporting heroes, ending with the iconic Cathy Freeman. The cheers from the crowd at Circular Quay were deafening - this was a very proud moment for Aussies and Sydneysiders.
Freeman bent down and appeared to light the waters below her, and a ring of flame appeared around her as if she were standing in the middle of a giant gas hob. The ring then rose up around her, looking for all the world like a UFO, or something from Independence Day, then started to climb the incline to the head of the stadium, down which the waters were pouring. It was a fantastic moment, but people in the crowd began leaving thinking that this was it (trying to avoid the rush), but there seemed to be more. Freeman stood there, flame aloft, waiting for something to happen ... and then it did. The ring rose further up and a vertical piece now rose up to meet it, creating a handle or base for the flame. All in all, a stunning show, but one that almost didn't go without a hitch. It transpired that while Cathy Freeman was waiting and the gas ring remained stationery, engineers underneath were desperately trying to get the thing un-jammed and moving up to its ultimate destination! The gods of Olympus were smiling down on Sydney today.
The same could not be said of Sydney's transportation though. With the ceremonies at an end, the streets were ridiculously busy, and all the traffic was jammed, nobody seemed to be moving, the train stations were being cordoned off to manage the crowds in bursts. We decided that the only way to get home was to walk as far as we could and then try to catch a taxi, but these were in high demand, and the crowds did not appear to thin out because no sooner had we got some distance from one live event (Circular Quay) than we hit another live event (Martins Place) and its departing crowds. Eventually we managed to get a taxi, and spent much of the time jammed in traffic until we got clear of the CBD and we were home free. Well, for about £10 anyway.