CBD: Amp Tower & The Opera House
Day 7 ::: Monday 11th September, 2000
Today was walkabout day in and around the CBD. First thing to do though was to try to arrange a trip to Cairns - I was hoping to learn to dive there and go out to the Great Barrier Reef. Unfortunately we had left things far too late. Both Ansett and Qantas were offering special deals to Cairns (roughly half price) during the Olympics, and Sydneysiders were making the most of it by getting away from the madness and taking a break at a cut price while simultaneously raking it in by renting their properties out to visitors. All this meant one thing - we didn't have a cat's chance in hell of getting a decent ticket to Cairns. The best we could do was fly out midday one day, have the next day in Cairns ... but be back on a 4pm flight that afternoon. Which pretty much ruled out any diving, or any kind of activity for that matter! Maybe next time.
View from the AMP Tower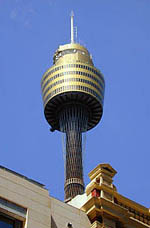 AMP Centrepoint Tower was our next destination. It's the tallest structure in Sydney, resembling a golden gear stick, and offers 360-degree views of the city and beyond. Entrance to the tower is via the Centrepoint shopping centre and the ticket price includes entrance to some naff tourist tat called Skytour. Ideally, you could pay just to go up to the observation deck, but that isn't an option. Still, if you pay for the Skytour 'experience', you might as well sit through it!
The views from the observation deck are fantastic. On a clear day, it's possible to see the Blue Mountains some 20km away, and the fantastic Olympic Stadium complex was clearly visible at Homebush Bay. I spent most of my time trying to work out which of the skyscraper rooftops that we were looking down on were used in the Matrix. The scenes with Neo and Trinity fighting the police ('Dodge this') were shot here (actually, all of the film was shot in Sydney), and when you watch the film, you can clearly see the AMP tower in the background while Neo does his thing.
We had lunch at the base of the tower in the Centrepoint Plaza foodcourt. There are a number of these foodcourts in Sydney's CBD, and they offer fantastic value fast food of every conceivable origin. They were always heaving, but it didn't take long to get served. The only problem was finding somewhere to sit. For value and quality, you couldn't get much better than this.
The Opera House
Duly refreshed, we felt ready to venture over to our next destination - The Sydney Opera House. It was another windy day, so where better to be than one of the most exposed areas of Bennelong Point?! The wind was making up new and interesting creations out of my hair - side partings were now obligatory.
The thing about the Opera House is that close-up, it really doesn't seem all that special, somehow. Sure, you can appreciate how many tiles make up the white segments (1,056,000 tiles in fact. I wouldn't want to verify that first hand though), but the shape is somehow lost from that angle, and it all looks a bit dated in design. Apparently it costs something like £40 million per year to run this venue. But I won't deny that from a distance, it's one of the most spectacular structures in the world, and surely one of the most easily recognised. The shapes were even woven in to the Sydney 2000 logo, which surely shows just how important this building is as an Australian symbol.
Royal Botanic Gardens
To the south of the Opera House are the Royal Botanic Gardens, which we took a look at next. It was here that the first colonists had their first vegetable patch. It's grown somewhat since then. All manner of different plants and trees grow there, but I'm not green-fingered so it was largely wasted on me. There was a funky glass pyramid in the middle which housed tropical plants, but this was closed, so if there were any pig-eating plants or triffids in there, I never saw one.
We headed back in to the CBD to try another travel agents, but still no joy - there was just no way we were getting to Cairns during this holiday. We refreshed with another caffeine injection in the plush Chifley Plaza before heading back out to Mrs Macquarie's Chair, so named because the wife of the colony's first governor had a chair hewn out of the solid rock where she would sit and watch boats coming in to the harbour. Just like Otis Redding, in fact. If she looked to her left (west) she would have got a great view of the Opera House, except of course it wasn't built then. Her loss, our gain.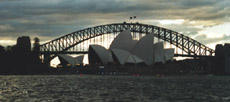 I tried to capture a shot of the Opera House and the bridge as night fell, but once again the lack of a tripod threw a spanner in the works. However, there were many people here who had come prepared - this was an obvious place to get the perfect Opera House/Bridge combination shot, and the photography enthusiasts were out in force tonight. I asked if I could borrow a tripod for a moment from one of them, who kindly obliged. The shot I took wasn't a career best, but it would have to do.
The walk back in to the city took something of a detour thanks to a temporary glitch in my map-reading skills (well, I think it was temporary) before arriving in the location of the Town Hall. Another snack break, and then we headed back, getting back to Bondi at around 11pm. We did a quick stock-up of munchies in the local newsagents, which included a loaf of fruity bread. This stuff was delicious, and was not something I'd seen before in the UK. Basically, it's a loaf of bread with raisins in which you toast. It tastes like toasted tea cakes with a hint of cinnamon and it's just the best way to start the day with a cup of tea. Mmmm, roll on breakfast time.