Darling Harbour and Chinese Garden of Friendship
Day 4 ::: Friday 8th September, 2000
The day started late-ish at 11am (a marked difference to the pre-sunrise mooch along Bondi). Today we were to pay a visit to tourist central - Darling Harbour. We had merely scratched the surface yesterday when we had tried to stay out of the rain, today we would find out what it was really about. First, though, the bus trip from Campbell Parade and past the shops of Bondi Junction, Kings Cross etc that were to become familiar landmarks in the coming weeks. The journey took longer today though, and the bus was very busy.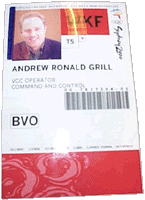 This was when I first really noticed the plastic passes. As we sat and watched more people try to fit on the bus, many people were not paying but were flashing laminated cards that hung around their necks with pride. These must be the press or television media, I thought. They certainly didn't look like athletes, anyway. There was a code to these things that I never did decipher, but essentially they were colour-coded to represent what you were there for (media/athlete/coach/hanger-on), with a picture, a bar code and all manner of other info. They were like real status symbols. Forget your fat gold chains, in Sydney, September 2000 you had to be wearing one of these to be somebody! Later in the games, the NSW Police uncovered a forging racket going on with these passes.
Darling Harbour and surrounds
The weather had taken a definite upturn - sunny but still surprisingly windy. Darling Harbour felt quite exposed to this wind, with the many Sydney 2000 flags that lined Pyrmont Bridge and all around flapping madly. By way of seeing what's what, we hopped in a train. By train, I mean one of those teeny little carriages that looks like something from Noddy, with the way-too-big driver up front merrily ringing the little bell. It moved at about 2 miles per hour. Manda and I were the only people in it. And yes, I did feel silly! The toy train took us once around the complex and showed us the lay of the land, finally dropping us off on the other side of the harbour from where we walked back round (probably at a faster rate too).
Chinese Garden of Friendship
The next stop for us was the Chinese Garden of Friendship - an area of peace and tranquillity in the city. The grounds were immaculately kept, and at every turn there was something that screamed 'Take a picture of me!'. The Ground Force team would have been positively wetting their collective pants at all the water features and landscaped rockeries. We ended up taking two 36-exposure films in this area alone (including some daft shots of me dressing up like a Chinese Emperor. Well, when in a Chinese Garden, do as the Chinese Garden visitors do).
The Imax theatre in Darling Harbour is the world's biggest Imax screen, or something like that. Whatever, it looked like good old-fashioned tourist tat, so we went for it. And hey, make that a 3D show for good measure, buddy. We sat there, strange goggles on head, as the Cirque du Soleil performed The Journey of Man on an 8-storey screen as if they were right in front of us. The stunts and acrobatics these people do is incredible already, but the 3D element and the massive screen size meant you could see almost every taut tendon, every straining muscle on the performers as they did their thing.
The games were still a week away, but there still seemed to be a level of apathy towards them, and the papers were still reporting unsold tickets. Sydneysiders had probably just got so used to seeing the Sydney 2000 logo everywhere that it still wasn't real to them. This would definitely change soon. Despite this, the queues for Olympic tickets wherever there was an outlet were huge. We decided to collect our tickets now though, as these queues could only get bigger in days to come. The tickets were for Women's Beach Volleyball at Bondi on the opening day of the games and Judo the following day.
One week away. But where were all the visitors? Aside from the ticket queues, Sydney didn't appear to be overwhelmed by visitors, nor athletes yet for that matter. If Darling Harbour was the tourist trap, why were so few people milling about there? I kind of felt sorry for the Sydney people who were having to put up with quite a lot (road closures and re-routing, constant building works) to host these games (and they were paying for it in their taxes), but where was the pay-off? How many business were stacked up with merchandise that was not shifting? Foolish boy, Ian, just you wait and see how wrong you can be ...
Given the traffic that morning, we opted for a different route back to Bondi, this time catching a train as far as Bondi Junction and bussing it back from there. This was to become our regular route from now on - a bit quicker and certainly more comfortable on the train.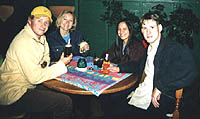 In the evening, we stayed local for nosh, eating at a Mexican restaurant (Montezumas) on Campbell parade with Andy and Wendy. There I was acquainted with one of Australia's finest brews - Carlton Cold. Never heard of it before in UK, and haven't seen since returning, it is a lovely crisp beer (a note to ale/bitter drinkers: by beer, Aussies really mean lager). Andy and I managed to put quite a few down between the two of us, which might explain what happened next. As Manda, Wendy and I walked up the road, Andy nipped to the loo in the restaurant before settling the bill. Moments later he appeared behind us but had forgotten something - the bill-paying bit, or so he said. Nah, he was just kidding. Back home and on with the Carltons then. Or maybe sir would like something a little stronger? Perhaps a Scotch and dry ginger?
Breaking Bells
Andy grabbed the bottle of Bells that I had got for him at the airport and held it aloft. Held it by the plastic protector bit that they put on the bottle to stop it breaking. The irony of it .... The bottle slipped out of his hand and fell, in slow motion, to the tiled kitchen floor while the bottle 'protector' remained held in a firm grip at shoulder level. The glass shattered, the Scotch found its way to every corner of the room and all that remained was the neck of the bottle with the lid on and a nice little bottle-shaped dent in the kitchen tile which will serve as a permanent reminder for years to come. Andy picked the neck of the bottle up, turned it upside down, preserving what little liquid was left inside then unscrewed the cap, pouring approximately one single measure into his glass. He then started licking the tiles dry.
It was time to call it quits for one night.