Govett's Leap & Wentworth Falls
Day 17 ::: Thursday 21st September, 2000
There can be fewer more inspiring places than Govett's Leap to wake up in. I tried to catch the sunrise over Jamieson Valley with what few remaining shots there were on the camera film, but as ever with these kinds of places, the camera can never capture the sheer scale of the geography.
So, what was the plan for today? Difficult to know what to do now - we'd been to Jenolan Caves, looped back round and were covering old ground again. The difference is that this time we knew the layout a little better (you can't go far wrong given that everything spurs off of the Great Western Highway), and we had some daylight with which to grab some shots of places we'd previously only seen at dusk or at night.
First place to re-visit was Evans Lookout, which we'd first seen on Tuesday, then we carried on to various lookouts that were signposted along the cliff drive. Most involved parking up and taking a bit of a stroll before finding out whether the lookout was a real winner or just average (because after Govett's Leap, Echo Point and Evans Lookout, some of the views did seem average - it's all about context).
We stopped at Leura, which some guidebooks have as the prettiest of the Blue Mountains towns, to see its cascades. Parking at a family picnic type area we spotted a small cascade and assumed that to be it, but following one of the walks we soon discovered that this was a mere trickle of the real cascade.
Road kill on the cliff drive
Shortly after I had my first road kill. That's not to say I ate something scraped off the road, but rather I added to some other budget-conscious traveller's potential menu. The unfortunate creature was a lizard, and a pretty big one at that. He must have been a foot and a half long, dark in colour (a blue-tongued lizard perhaps?) and, sadly, a bit on the slow side. As I rounded the bend, I saw him slowly wander into my path, turn to look at me (I could swear he flicked his tongue out for one last taste of Blue Mountains air), then he felt the full weight of a Volkswagen camper with two happy campers on board. I was gutted. Although the lizard was unarguably more gutted than I was...
And so, with that happy thought, on to lunch! We had a meal in Katoomba in some kind of visitor's center. I don't recall its name but it was slightly away from the Echo Point lookout, although it had its own impressive cliff-top view. Split between restaurant and gift shop, it promised much but delivered little. The food arrived very late, almost every table had the last occupants' leftovers and cutlery and yet there were only a handful of people eating. Still, the view was pretty good, and the gift shop at the basement level was pretty good, which went some way toward redeeming it.
It's a falls paradise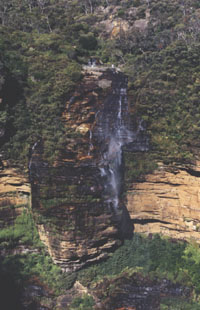 The afternoon was dedicated to visiting the various falls that we had yet to see, beginning with Gordon's Falls and then the massive Wentworth Falls. Everywhere at these sites are routes that allow walkers to descend into the valley below, or simply take them further out on some kind of plateau to get a better view. Sometimes, these railings meant the difference between solid ground and a sheer 1000ft drop. We later learned of an English tourist who didn't pay heed to such visual clues at Wentworth Falls and discovered why they are called falls.
We tried to find Lawson's Falls, but managed to get lost in the residential back streets that lie between the highway and valley beyond. This was kind of interesting though, because having lost all bearings, I found myself driving Winnie into a wooded area on a track that got progressively rockier and bumpier. Eventually I found a clearing and stopped there, deciding that I was well off track now but what the heck, it was nice here all the same. Manda had dozed off in the back of the camper, so I just sat there in the dappled sunlight listening to the sounds outside the van, thinking about the next move - home (so to speak).
We had pretty much covered the Blue Mountains, and there seemed little point in staying another night, so we headed back in to Sydney for a relaxing evening in front of the telly. For a change, Olympics coverage was not wall-to-wall, and I actually found a film to watch - Cliffhanger. As if I hadn't had enough of looking down 1000ft drops for one week!