Koala Park, QVB, Olympic Torch Ceremony at Circular Quay
Day 10 ::: Thursday 14th September, 2000
Koala day today. We were going to Pennant Hills in the north of Sydney for Koala Park, probably one of many of these kind of things. Well, round these parts at least. The flyer promised the opportunity to have your photo with a koala (not just near one, as with Taronga Zoo), but there were also loads of roos and other Aussie animals to satisfy the tourist's appetite for strange furry creatures.

Pennant Hills is a bit of a distance outside of the centre of Sydney - probably 45 minutes by train, whereupon you have to jump on another bus to get to the park itself. Travel tickets bought for use in and around the city are no good here, so you have to have a few cents to hand. Another point for prospective visitors - bring your running shoes, because when you get to the park, the bus drops you off on the opposite side of a busy road that has no crossing. If you remember the arcade game Frogger, this is a bit like it, with hoofing great big Mack trucks steaming along intent on mowing you down or at the very least making you eat the dust they throw up in their wake.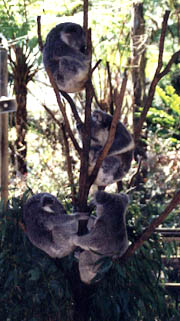 The park is a very simple affair. The clue was in the title, I guess - these were the koala specialists! You want rhinos or tigers, you're in the wrong postal district. It doesn't take all that long to walk around the entire park, although it is good fun playing spot the koala - there are laminated signs hanging around the trees that read 'There is a koala nearby'. Your mission Jim, if you decide to accept it, is to try to find which trees the little furry things are perching in. There was an additional challenge today - one of the baby koalas had escaped the nursery and was somewhere in the park, and the workers had already asked us if we see a baby one to notify them as they'd quite like to make sure all was OK. It had been missing for a day or so already.
We did have our pictures taken with a koala, too. This was a lot less sensitive an approach to the koalas than we'd seen in Taronga, and I did wonder why if it distressed koalas enough for Taronga Zoo to not allow people to handle them that it was OK for them to be picked up, placed on the perch and fed eucalyptus leaves for our entertainment here. And then I had my photo taken. What a hypocrite, eh?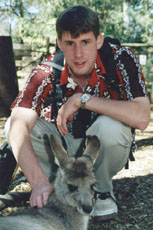 The Kangaroo enclosures were fun too. Kangaroos look quite dozy, but you just know that they could make a bolt for it if they wanted to ... and we've all seen the boxing kangaroo. With that in mind, I approached them cautiously, but they were actually very chilled out, and quite used to being stroked, patted etc. The biggest surprise for me was 'the claw'. Kangaroos don't have paws, nor do they look like hooves (although they are) - instead they look like a couple of long slender claws. It's particularly strange to see these claw-like appendages sticking out of the belly of another kangaroo, but of course that's how mothers carry their young around. Some of these joeys looked a bit too big for their pouches. They were just taking liberties.
Queen Victoria Building, CBD
Despite the fact that this was the most out-of-town that we'd been to date, we were back far sooner than we expected and rolled back in to the CBD early afternoon. We took the opportunity to fit in a bit more shopping and even more window-shopping. The Queen Victoria Building was a shopping plaza with a difference - none of your chrome, glass and steel construction here. The shops and the additional fittings (I don't recall Queen Victoria ever having been on an escalator) seemed to be squashed in to the strangest positions, and it felt very cramped in there. That aside, the building was still a pleasure and really did make a change from the usual bog-standard shopping centre layout.
In the pedestrianised Market Street, we took a look in the Olympic Store. Everywhere was selling Olympic merchandise of some form or another, but this was the place to pick up everything and anything with the logo on it in one hit. Both Manda and myself came away with heaps of gifts for the folks back home, from bags (of which I had many) and caps to key rings and lanyards. This was a very popular shop, but then if you go to Sydney during the Olympics, you want something to prove it, right? The great shopping public obviously thought so too.
After a brief stop for coffee, we headed down towards Circular Quay. The Olympic Torch was due to pass through here tonight, at which point the Olympic rings on Sydney Harbour Bridge would be lit and the games would feel just that little bit more imminent. Despite the fact we were there a couple of hours before the torch was due, the area around Circular Quay was jam-packed, and we had to push our way back through the crowds to find somewhere a little less claustrophobic.
The Torch Ceremony reaches Sydney CBD
Macquaries Chair would be good, but the route through the Botanic Gardens was closed off, and the long way round looked like it may be a non-starter - if we got that wrong, we'd never get back in time, so instead we walked down towards the Opera House and got as close as we could. When the torch eventually arrived, we could just about make the shape of the flame out as it bobbed up and down over the heads of the crowd. Turns out that it was tennis player Pat Rafter carrying it (just passed to him by Olivia Newton John), although we couldn't see from our vantage point.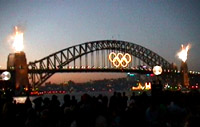 The Olympic rings came to life accompanied by fireworks from the supporting buttresses of the harbour bridge. Just a token gesture of fireworks for the time being - the big display would be the closing ceremony, which we unfortunately would not get to see live.
The final stop was to be the Domain, south of the Botanic Gardens, where a big open-air concert was to take place. Three massive screens relayed the events taking place on stage, as were similar massive screens at other live locations around the city. We found a place to sit (this was a far easier task than earlier) and saw the likes of Bob Downe (who is a big star in Australia, as opposed to the graveyard-shift TV celebrity that he is in the UK), Vanessa Amarosi and Olivia Newton John perform. And some bloke called 'Anuj' who was like a resurrection of that embarrassment of a pop star Peter André. Not good.
We tried to arrange to meet Andy here but he didn't get in touch which, in hindsight, was probably as well. I can imagine the directions: "Yeah, we're in front of a massive screen, we're wearing dark colours (and believe me when I tell you that everyone does in Sydney!), there are some skyscrapers to the right." Like that'll help. (By the way, still no sign of any cats).