Bondi Beach and the CBD
Day 2 ::: Wednesday 6th September, 2000
The day began late for Manda and I - it happens when your body clock thinks it's a Micky Mouse watch and not the fine-tuned Swiss number that nags you to get up at 7am every morning. Morning had broken and made way for afternoon - 12:30pm to be precise. We decided to venture out and simply see what happened for the first day. There was no great plan, because plans for the first day are likely to go belly up.
Bondi Beach
A trip to Bondi Beach first. Although it was hardly a trip in the traditional sense, more of the literal sense - trip up outside my brother's place, and after a deft roll down Francis Street you find yourself on Campbell Parade overlooking the world famous beach. And then you get up off the floor before one of the many Sydney City buses mows you down. Or one of the scooter people.
Times move on, and now it seems like such old hat, but in September 2000, no-one was riding those fold-up scooters in the UK, or at most a handful. In Sydney they were all at it - and not just the kids, adults too (not just the ones who wished they could carry that Limp Bizkit look off too). They have the weather for it though.
Bondi Beach. The name conjures up lots of images. You think of miles of golden sands, surfers everywhere and Brits having barbies on Christmas day. Not all of that's true. Bondi beach is actually a lot smaller than you might imagine (although its sands truly are golden .. or at least they were while the Olympic visitors were in town). Surfers are there in their numbers, it's true - we spent some time sat on those sands watching some of them make it look like the easiest thing to do, whilst others belly-boarded their way inland under the watchful eyes of instructors. While the surf's good though, so too is the wind and so we decided that we should leave Bondi for another day, given that it was on our doorstep and that the wind kept on blowing the damn sand in our faces!
As for those barbies, yep, it's true that 'Brits abroad' syndrome manifests itself at its worst on Bondi at Christmas. The climate is almost the opposite of the UK - and so December 25th is a glorious day, but the beach parties are almost cliché now, and the locals have had enough. As we left to catch a bus into the centre (whatever that meant) we passed a nutter walking the length of Campbell Parade having a damn good conversation with himself.
Kings Cross et al
The bus took us through Bondi Junction, Paddington, Kings Cross (which shares a reputation not unlike London's Kings Cross) and into the Central Business District (AKA the CBD). A quick stroll took us to Circular Quay, the hub of Sydney's transportation network. As you stand on Circular Quay, to your left is the famous Sydney Harbour Bridge giving access to the northern suburbs, to your right is the Opera House, ahead, the ferries that venture out into the harbour in all directions and above, the Rail lines that take you out to the furthest reaches of Sydney.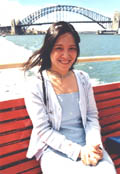 We opted for something a little more local - Pyrmont. Actually, we had no choice as we were kicked out at Pyrmont but then we hadn't had time to acquaint ourselves with the ferry routes yet - this was still a magical mystery tour. Prior to our booting-off, we had the chance to do something that Sydneysiders do day-in day-out and probably get somewhat blazé about - we went out in the harbour underneath the bridge and took in the view of the bridge and the Opera House. A lady on the boat kindly offered to take a picture of us both (we didn't ask, she just offered), which was a nice gesture.
Or do Sydneysiders get blazé about it? In between random splashes from icy cold harbour waters (it was choppy!), we listened to another lady tell us how she loved her city. It was great to hear someone so proud of the place they live, not like us moaning pommes, eh? Then again, what a place.
The not very adventurous first day ended with an evening meal at Thai Intra in Bondi, not surprisingly a Thai restaurant with fishcakes to die for. They were deee-lish, as was most of the seafood here, thanks to the freshness of it all. Trouble is, I am not a seafood person, but I have it on good authority that the fishy stuff hit all the right spots. The restaurant also introduced me to a new concept - BYO. You see this at a lot of places in Aus, and it means Bring Your Own, as in drink. It saves the restaurants needing a drinks licence, which must be expensive or something. It also means having to take a mooch over to the nearest Bottle Shop (as they are known) to pick up a crate of what you fancy which the restaurant will kindly put to one side away from your table, and bring out a refill whenever you request it. It's a far cry from the usual approach of 'Only food and drink purchased from these premises may be consumed in this seating area'.
After the meal, we came back to find the BBC programme Men Down Under starring Martin Clunes and Neil Morissey. Brits abroad, eh?