Wednesday 20th February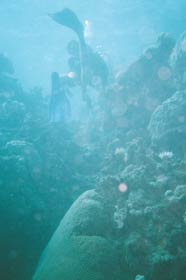 Underwater shot, Great Barrier Reef
The day began yesterday at 8:15 when I was picked up from the hostel and transferred to a boat called the Sunkist - this takes about an hour and a half to get you from Cairns ferry to the inside of the Outer Reef where we boarded the big boat, Kangaroo Explorer. Having got all the briefings out of the way, we quickly got into some lunch before taking the first dive.
I had intended just to take things easy and enjoy the dives, but decided to have a go at some more qualification dives. Now, with only two days I was unable to do an advanced course, but was able to go for something called 'Adventure Diver', and this can easily be 'upgraded' to Advanced with only a few more skills dives. The down side of doing this is that you do have some learning and paperwork to do between dives, so sunbathing is not really an option (or advised, given the intensity of the sun here).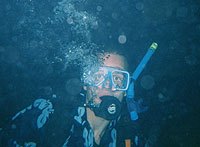 Marcello, wearing my holiday shirt.
There were three dives on the first day: one at 2:30pm, another an 4pm and then the night dive at 8pm (or thereabouts), where we all headed off with our little torches, wearing items of our dive buddy's clothing to make it easier to identify your buddy. Marcello, a Brazilian guy, had the pleasure of wearing one of my classic 'I'm on holiday' shirts, while I swam along in his vastly oversized (for me!) board shorts over the top of my wet suit.