Wednesday 6th March
It's Wednesday morning, and the last full day in Sydney. The flight tomorrow is at 10pm, so we get most of the day to do what we want, which is good. The other good thing about the flight time is that once we've taken off, had a bit of food, we'll all zonk out and get a good sleep. Not looking forward to the five-hour wait in Kuala Lumpur though. The airport there is very swish, very clean. Very boring. Last time we had it just right - we got off the plane, had some time to freshen up, grab a drink and then before we knew it were getting ready to board the plane to Sydney. Let's hope that Karen can find a crèche for the kiddies!
Andy has taken the kids to see Monsters Inc. Every morning, Toby has been saying, "Are we going to see ... (etc etc)", and he knows that it's on at 10 o'clock. This morning, Toby was the last to get up (not the usual scenario) so daddy played a trick on him - Terry said that it was half past ten, knowing full well that Toby knew what that meant! In the last few days, there has only been one important time for Toby - that time is 10 o'clock. No other time of day matters!
Today we'll probably do the last spot of baking in the sun at a beach to be decided (although let's face it, it's probably going to be Clovelly again). Daisy will have to make do with splashing about on the beach though - yesterday Karen was concerned that she might be unwell, possibly mumps. For a few days Daisy's been complaining that her ears hurt, and yesterday her throat was a bit swollen and a little rashy. She's had the jabs, but there's always a chance. So, Karen had to take her to the docs then the chemist, and it turns out that she has an ear infection, both ears. The doctor asked whether Daisy had spent a lot of time in the water. That's a definite yes!
This evening, Andy and I will be doing the bridge climb, and it should be dark by the time we get to the top. I bet he can't wait for the preparation before the actual climb (sarcasm). Each climb begins with an introduction: "Hi, my name's Ian, I'm from Swindon, and I just love climbing stuff", etc etc. He's already done all that crap twice before. And those grey suits they make you wear - nice!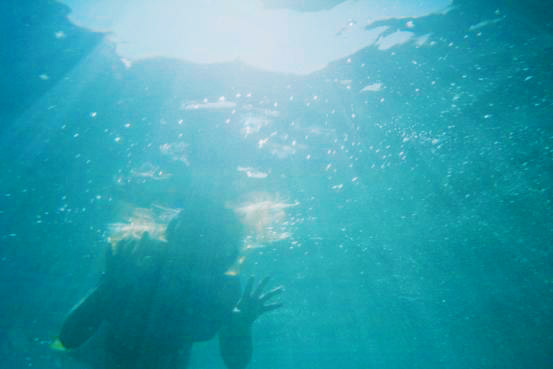 [later ...] So, we did go to Clovelly again, and despite what the doctor said, Daisy did go in the water again and get her ears wet. She was told not to, but hey, she can claim that she didn't hear. Daisy is bunged up at the best of times, and here was a golden opportunity to plead ignorance.
Later on, Terry drove the combi to Bondi Junction, where me and Andy got off to do the Bridge Climb. We got off at the junction because there was a 48-hour strike by the State Transit bus workers, and it would be hell getting to the bridge in the combi. Actually, it wasn't exactly a doddle by train to Circular Quay either, particularly when we got to the extremely confusing Town Hall station. "Where the hell do we go now?"
With a race against time, we got to the reception of BridgeClimb just five minutes late. That was still plenty of time to wolf down a much-needed egg roll before we began the climb, as they have a 15-minute check-in policy.
Having gone through the usual introductions, and the obligatory training/suiting up, we stepped out on to the lower levels of the bridge approach, just as the sun was setting. And just to recap slightly, there was the strangest guy in our group called Vijay (from Twickenham) who said he preferred to be called 'Sex God'. Trouble is, he was as camp as a row of pink tents, bald with really stupid glasses, and had a posture like Richie from Bottom (if you know the program, just imagine Richie in his horrible old underpants pulled up to his belly). In short, he was no sex god!
I was glad that I had not been able to get the climb on my birthday, when the weather was grey and rainy. Tonight it was crystal clear, and from the top of the bridge at 134 metres height we had an excellent 360 degree view of Sydney. We could even see the Southern Cross, the constellation that appears on the Australian flag and which is only visible in the southern hemisphere.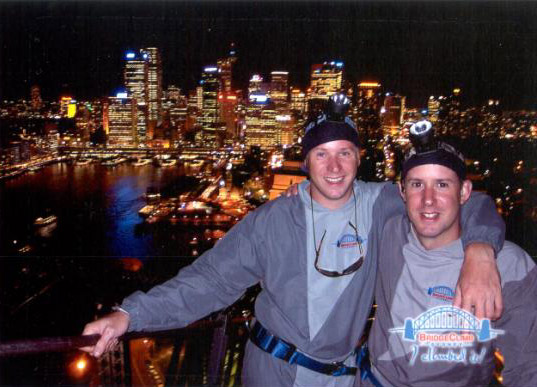 As if that wasn't enough, when we climbed back down the western incline to the turret, we saw fireworks across the harbour. There was a fairly decent display going off, apparently being launched from Farm Cove, directly to the east of the Opera House. I said to Andy ...220;You know, you really shouldn't have....221; ;-)
Although the tickets for the climb were for 6:45pm, by the time we got back down, got out of the climb gear and got the photos, it was nearly eleven o'clock. So, we stopped for one beer at the Australian Hotel before making our way back to the flat by train and taxi.