Saturday 2nd March
Another session of snorkeling and fish-feeding at Clovelly today. This time I had helpers - Daisy & Toby. They had both got a mask and snorkel set each and took to them really quickly. Daisy had a slight panic in the deeper water when one of her fins came off, and then removed the snorkel only to get facefuls of water in the choppy waves. "Put the snorkel back in!" I kept telling her, which would have kept the water out! After a short break, and once she'd got her confidence up, she went back out into the deeper water with me where the water's clearer and there are more fish. She came back to shore after feeding the fish saying "Mummy, that was amazing!"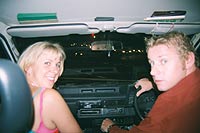 Take me to the Mardi Gras
In the evening we finished off yesterday's leftover barbecue food before heading in to town to watch the Mardi Gras. Many of the roads nearby were closed off, but Andy knew the back streets to Jackie's place in Darlinghurst, and from there it was just a five minute walk up to Oxford Street, where the parade passes through. In the end, the kids stayed at the flat with Terry, while me, Karen and Andy & Jackie all carried milk crates to stand on (two each, cable-tied together for extra sturdiness!), as were loads of other people - this was essential if you were to have any chance of seeing the carnival floats. It's either that or camp out (if you excuse the expression) on the street earlier in the day. Karen was relieved that she didn't bring the kids - they wouldn't have lasted more than five minutes. Where we stood we got a good view, and there were fireworks being launched off the roof of a building on the opposite corner. So, what of the parade?

Jacki at the Mardi Gras
Over half a million people turned out for the event (according to the Sydney Morning Herald), and it's easy to see why. The effort that goes in to the floats and costumes is incredible. A lot of the floats are laugh-out-loud material, and there was no shortage of political statements along the way, in particular Australia's attitude to refugees, the church's stance on gays and quite a few references to the 'Children Overboard' story. The only down side was that we had 'The World's Grumpiest Man' in front of us ("Stop pushing me!" ... "Sorry, but you'll notice that there are crowds of people all around you!") and a stroppy Dutch girl who was VERY protective over her milk crate ("Please don't stand on my crate. I'm serious."). If we'd thought about it, we could probably have nudged her and toppled the other man in one go. Tempting, very tempting ...