Tuesday 26th February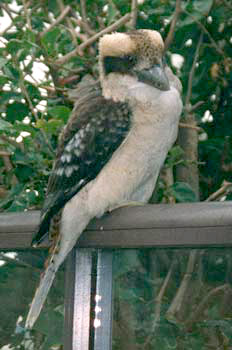 The laughing kookaburra, sitting on
the balcony outside the kitchen window.
With all the talk of lorikeets and fish, I forgot to mention another visitor to the balcony yesterday - a Laughing Kookaburra. He wasn't doing any laughing though, just watching the morsels of bread, and trying to work out the best time to help himself. While he did this, the pigeons kept a very safe distance - they were very wary of this big old bird! When he did eventually avail himself, he gave away his usual diet of fish - every piece of bread he picked up he'd bash against the balcony as if to 'kill it'. Half the time he'd end up breaking the bread into smaller pieces and then look confused (well, as confused as a kookaburra can, I guess) as to why half his food had disappeared.
After a cloudy and rainy start, today turned out to be a corking day. Having spent most of the morning just lounging around the flat, wondering what to do, I took the earliest sign of a clear sky to go sit overlooking the beach and have a read. Well, I managed to last about ten pages and then had to get back to get my swimming stuff - too hot to sit still.
Today was the first time that I'd gone in to the water at Bondi since I arrived. It's not really my first choice for swimming, but I had borrowed Andy's body board and was trying to ride the waves along with all the surfer dudes here. Didn't do too badly - the biggest problem was actually trying to get from the shore out beyond the breaking waves to get started. I had snorkeling fins, as opposed to the shorter fins used by body boarders, which meant it was almost impossible to walk out, and damn difficult to swim out in shallow waters when the breaking waves keep on forcing you back. Won't be going back to do it again today - caught the sun too much on my arms from holding the board, so need to give them a break less I go lobster!
In the evening we headed over to where Jackie (Andy's girlfriend) lives in Darlinghurst. Her sister Maria was having a goodbye bash - she is leaving this week. The flat was really cool - at the top of the building with a really big balcony and a good view of the AMP tower blinking away at night. We didn't stay too long as Andy was driving, but met quite a few people whose names I will have forgotten in no time at all. The weird thing was that although we were all in the heart of Sydney, of the twelve or so people there, only one was not British, and he wasn't Australian either (from NZ).
News out here continues to be the 'Children Overboard Fiasco', the Governor General's mis-handling of child sex allegations and a suggestion that the harbour bridge be converted to allow for two decks of traffic and a further rail line to ease congestion.